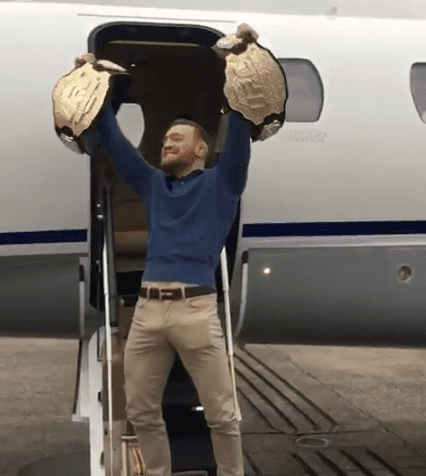 Conor McGregor said it himself in the cage moments after winning his second UFC title in New York: "The double champ does what the fuck he wants."
It seems those words ring truer than ever today after Conor McGregor posted a clip to Instagram of him proudly raising two UFC titles above his head before boarding a private jet, defying the UFC's decision to strip the Irishman of the featherweight title he won from José Aldo last year.
McGregor commented on the UFC's decision to strip the title in a recent fan Q&A event in Belfast.
"I also have something going on with the UFC, they're trying to strip me and I was like, 'Well, I ain't stripped. I still got that belt, that belt is still at home right now'," McGregor said. "I'm still the two-weight world champion, someone has to come take that from me. I see articles, I see stuff online, but I don't see the belt not in my presence. The belt is right there, there's two world titles at my home."
The first simultaneous two-division champion in UFC history has previously said that the UFC would need an army to remove the belt from his collection — and, as of yet, there's no sign of Zuffa mobilising any troops.
Comments
comments