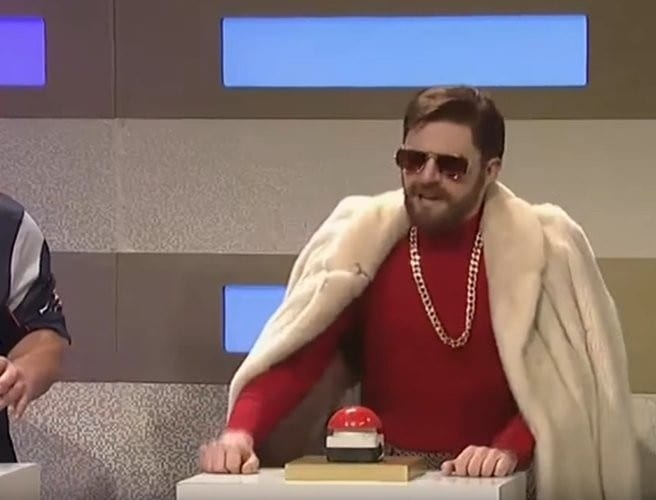 While he may be out of the ring until the middle of next year, UFC lightweight champion continues to be becoming more and more of a household name.
Yesterday, American comedy institution Saturday Night Live spoofed the Mixed Martial Arts star, parodying his extravagant lifestyle in a segment titled "Where'd Your Money Go." The sketch starred WWE star John Cena (who was the SNL epsiode's host) as New England Patriots' Rob Gronkowski, Kenan Thompson as NBA legend Charles Barkley and Alex Moffat as McGregor.
While Moffat's attempt at a McGregor accent might not be the most accurate, the outfit is absolutely spot on, with the comedian dressed in the same outfit the lightweight champion wore at the UFC 205 pre-fight press conference.
It marks one of the very few occasions an MMA athlete has been involved with the show in any form. While McGregor himself wasn't participating, his being featured is a clear indication of his increasing mainstream cross over.
Watch the skit in the video below.
https://www.youtube.com/watch?v=0xsrdyT4z_E
Comments
comments