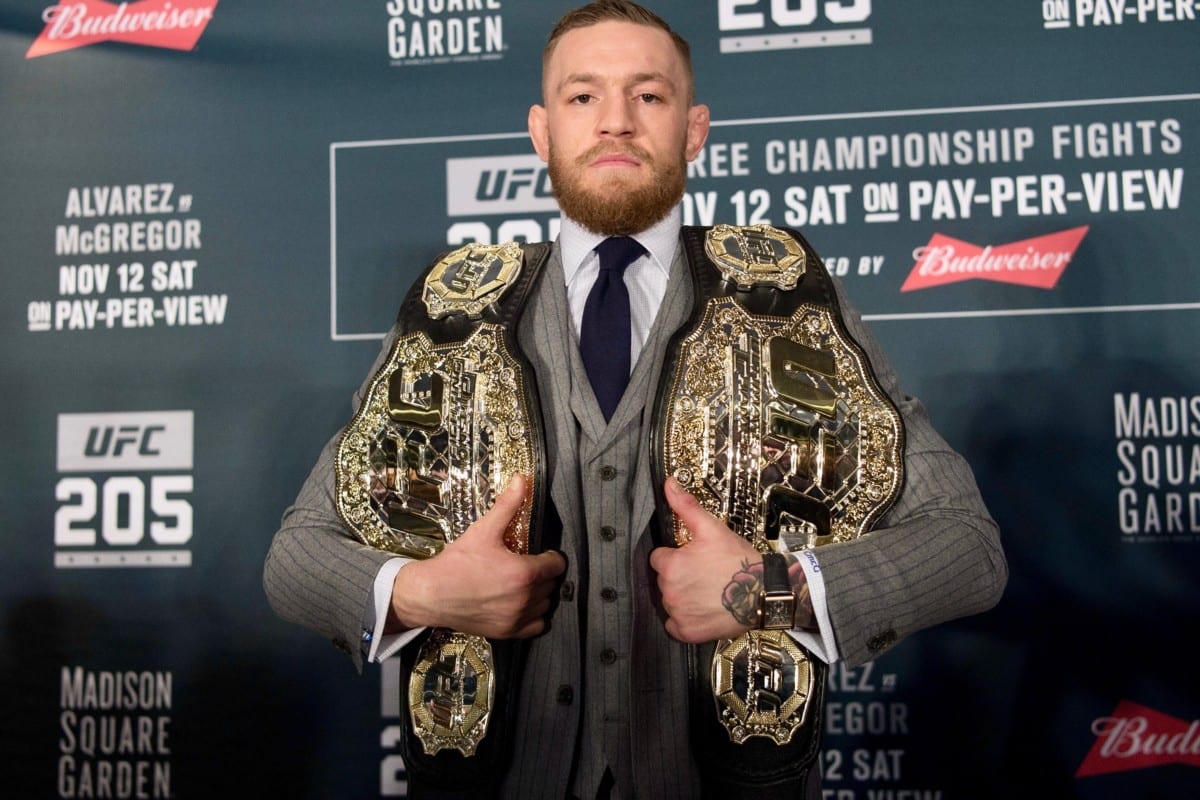 Barely two weeks removed from the most historic night in the sport's history, the UFC have moved to strip Conor McGregor of the featherweight title he won less than a year ago from José Aldo and placed the belt once more around the waist of the man whom McGregor beat in 13 seconds last December, marking the second time that the Brazilian has been awarded the featherweight title outside of the cage.
McGregor's second round knockout of Eddie Alvarez earlier this month in New York established a new high water mark for what could be achieved by a fighter in the UFC.
His status as the company's first ever simultaneous two division champion, achieved inside the world's most famous combat sports arena, coincided with what was an historic night for both the UFC and the sport of mixed martial arts – and this was entirely reflected by the record-breaking numbers which emerged from an event promoted heavily on the back of McGregor's quest to add a second UFC title to his collection.
But now, with McGregor's double-gold triumph still fresh in the memory, the UFC have stripped arguably the most active top-level fighter on the roster of one half of his unique achievement.
The UFC have removed championships from fighters in the past, usually due to injuries rendering a fighter unable to compete or a positive drugs test, but this marks the first time that an active, uninjured fighter has been forced to vacate a title, especially when you consider that McGregor has maintained his desire to compete at both featherweight and lightweight.
It's just over 11 months since McGregor won the UFC's featherweight title from Aldo at UFC 194 and for the second time the UFC have installed the Brazilian as their champion, despite him going around 13 months without defending his title on two separate occasions. It's also worth noting that the Brazilian has withdrawn from five UFC title fights in his run with the company, a pull-out rate of 55%.
Indeed, precedents for longer gaps in title defenses aren't hard to find.
Former champions like Dominick Cruz (27 months) and Frank Mir (14 months), both of whom were injured, were afforded more time before the UFC eventually decided to remove their titles.
Most recently current champion Daniel Cormier's withdrawal from the main event of UFC 206 and the news that injury will force him to the sidelines for three months means that by the time he returns it will likely mark somewhere around 18 months since the light heavyweight belt will have been defended and nor is there an interim title currently in play in that division.
Georges St-Pierre, one of the UFC's most successful champions, defended his belt in April '11 and then didn't do so until November '12 the following year (19 months).
Randy Couture defended his title in August '07, and then not again until November '08 (14 months).
Cain Velasquez won his title in October '10, and didn't defend it until November '11 (13 months).
Anthony Pettis, a fighter who is about to fight for the interim featherweight title after losing three of his last four, won the lightweight belt in August '13, and didn't defend it until December '14 (Over 15 months).
And, as mentioned above, José Aldo had over a year gap between title defenses on two occasions, defending it in January '12, and then not again until February '13 (13 months). He also defended it in October '14, and then -after going on a world tour that cost the UFC millions only to withdraw from the contest- not again until December '15 (15 months).
Precedent
Perhaps the most similar precedent to McGregor's two-division title challenge came from another fighter who attempted to become a champion in more than one weight class in the UFC. BJ Penn was the reigning lightweight champion of the UFC when he moved up in weight to challenge Georges St-Pierre for the welterweight title at UFC 94.
Penn lost the fight but then returned to the lightweight division against Kenny Florian the following August, in what was a 15 month gap in defending his own title. There was no attempt to strip Penn of his lightweight belt.
Other cases
There has been other cases like Jon Jones who in 2015 was stripped of the light heavyweight title due to a legal issues outside of the sport. He was stripped earlier this year of the interim light heavyweight belt after failed a pre-fight drugs test in July.
Looking at the facts, McGregor case seems markedly different he won the featherweight title last December competing four times in four of the UFC's most successful pay-per-view events in history.
(McGregor vs Aldo – Attendance 16,516 with a gate of 10.1 million – PPV buy rate 1.4 million McGregor vs Diaz – Attendance 14,898 with a gate of 8.1 million – PPV buy rate 1.6 million. McGregor vs Diaz – Attendance 15,539 with a gate of 7.7 million – PPV buy rate 1.65 million. McGregor vs Alvarez – Attendance 20,247 with a gate of 17.7 million – PPV buy rate estimated 1.9 million+)
It seems what sets McGregor's case apart from the others is the fact that he has openly stated his intentions to defend both belts throughout 2017. In contextualising the facts that have went before it, the decision to strip McGregor is an unusual one by the UFC.
A decision which put simply looks to punish the biggest star ever to compete in all of MMA; two weeks after making history in front of a record-breaking crowd at Madison Square Garden.
Comments
comments