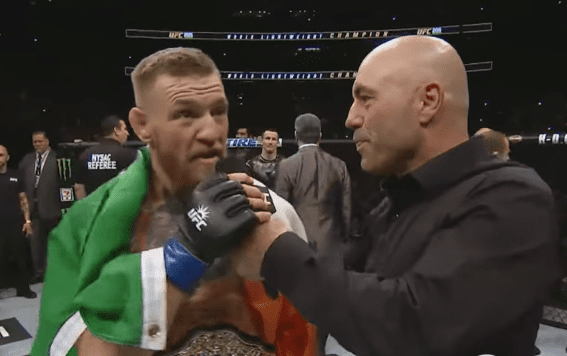 The Ultimate Fighting Championship will almost certainly return to Dublin in 2017 having skipped Ireland's capital city this year in favour of hosting an event in Belfast for the first time since 2007.
While next year's event calendar has yet to be fully revealed, we understand that there will be at least four events taking place between the UK and Ireland next year – with one of those already announced as being the UFC's return to London next March. Wales is also a market that the company would like to visit, especially now that there are two Welsh fighters in Brett Johns and Jack Marshman on the roster, but there is perhaps no market in Ireland and United Kingdom that is as energised as it is in Dublin.
It was noticeable during last weekend's UFC Belfast event that the arena was only around half-full for the first fight of the night, a bout featuring Irish fighter Charlie Ward. In both of the recent Dublin events in 2015 and 2014, and indeed UFC 93 in 2009, the arena was at capacity from the very first bell until the last indicating a thirst for the sport that is hard to replicate elsewhere.
Of course, if there is any mention of a UFC card in Dublin then the name Conor McGregor often follows very closely behind it. The newly-crowned double world champion hasn't fought in Ireland since July 2014 when he returned form a near year-long lay off with a decisive victory over Diego Brandao. This was the night the "Irish Takeover" was born, showcasing Ireland as a hotbed for the sport of mixed martial arts on a global scale.
McGregor has made it clear that he wants to fight on Irish soil in the near future. When last year's UFC Dublin main event fell though McGregor offered himself up as a short notice opponent for Dustin Poirier. The move, unsurprisingly, was blocked by the UFC. There is a lot of money to be made by promoting Conor McGregor and, in their view at least, having him fight in front of less than 10,000 fans on a Fight Pass card doesn't represent good business.
If the 3 Arena (formerly The O2) is now too small to host a McGregor fight, what else is there? Ireland has two state of the art football stadia but both of these, The Aviva Stadium and Croke Park, offers logistical difficulties of their own. Croke Park on Dublin's Northside has hosted combat sports in the past (Muhammad Ali fought there in the 1970s) but an event there comes with significant red tape. The 11pm curfew which the stadium managers have to work within would severely restrict the UFC's impact on the US audience.
Another problem with both is the stark unreliability of the Irish weather, as any outdoor show would be hugely compromised if the heavens opened.
But despite all of these hurdles, the facts remains the Conor McGregor wants to fight in his home country and as UFC vice president and managing director for Europe, Middle East and Asia James Elliott told the media in Belfast last weekend, the UFC are keeping their options open with regard to booking McGregor to fight in Ireland.
"We're working through all the different possibilities with Conor", Elliott said. "There's a number of things up in the air at the moment. I know it's something that we've made no secret about the fact that we'd love to get it done. He's gone on to such success that it's something he's keen to try and get done as well."
"It's very, very complicated to try and bring him back, particularly to Dublin," Elliott said. "But it's something we'll always try and figure out the best way to get it done that we can. We're working on it."
That said, few people outside of McGregor's camp believed that he could be a two-weight world champion in the UFC. If there's any fighter on the UFC roster who is capable of changing the UFC's position on something, it's Conor McGregor.
Time will tell on this one.
Comments
comments