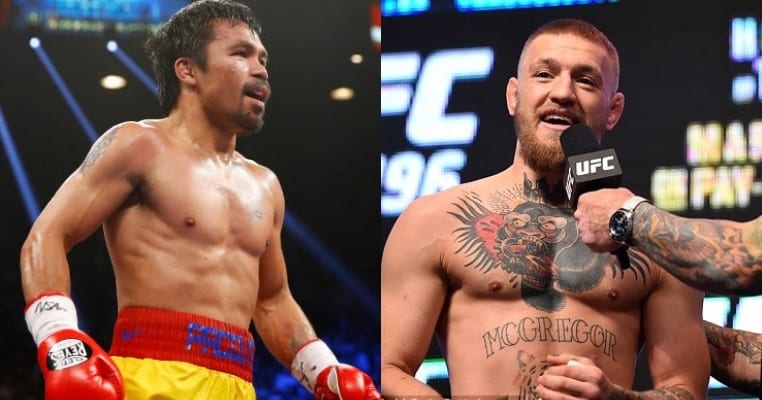 Among the numerous talking points from Conor McGregor's Q&A in Manchester last Saturday evening was the Irishman saying he was open to forgoing the prospect of a boxing match with Floyd Mayweather in favour of stepping between the ropes to face Manny Pacquiao.
The Filipino remains one of the finest boxers of his generation despite the loss he suffered to Floyd Mayweather in their gargantuan PPV bout last year. Mayweather, who has recently stated there is no fight he is prepared to accept other than one with Conor McGregor, has said to the media that he is the "A-Side" in a match-up between the two and his compensation for the bout should reflect that.
McGregor counters this claim by asserting that Mayweather's last match, a unanimous decision win over Andre Berto in September 2015, sold just 300,000 pay-per-views. McGregor, meanwhile, has seen his last five UFC bouts eclipse the one million mark in PPV sales.
Speaking to Ariel Helwani in Manchester last weekend, McGregor said he would consider a bout with Pacquiao if acceptable terms with Mayweather couldn't be reached.
"Maybe fuck Floyd," McGregor said. "Maybe fuck the A-side. Maybe I'll just fight Pacquiao instead. Why not do that? Why not fight Manny and fuck Floyd?"
Artem Lobov, longtime friend and training partner of McGregor, doesn't think that Pacquiao would cope very well with McGregor in the ring should the Mayweather bout fall apart.
Speaking exclusively to TheMacLife.com, Lobov said that McGregor would make short work of the Filipino: "I think that's a more realistic fight. I tell you one thing; before even Conor himself thought about fighting Mayweather, I was the one telling him that this is the fight to make. I was telling him that this is where this was going to go.
"I'm not sure how serious he took me at the time, probably not much because his mind was set on the UFC gold. That was what he wanted, so I don't think he took it seriously but now it's coming to light.
"I honestly feel that Mayweather doesn't want the fight. Think about it this way, him and Pacquiao… it took them five years to make the fight happen and they are in the same sport. How is he now going to take on Conor, who is in his prime, is young motherfucker knocking everybody out. Mayweather is 40 now. He's not going to risk that, but he's making the most of it. You're not going to find a single article in the last year about Mayweather where Conor is not mentioned.
"I feel that Conor vs. Pacquiao is a good fight to make."
One question that has been bandied about since McGregor has made light of his desire to compete in boxing is to do with exactly what stance the Irishman would employ in the ring. Lobov was insistent that McGregor wouldn't change a thing from the style that has seen him achieve unparalleled success in the octagon.
"I think he will just do what he does. He will take on his own stance, his own style. It's proven very, very effective so why change anything?", Lobov said.
"I know Pacquiao will take the fight. It's a very realistic fight that could happen. I don't want to disrespect Pacquiao, he's a great fighter, but I think it would be quite an easy night for Conor. Pacquiao historically has done very bad with counter-punchers and Conor is one of the best counter-punchers on the planet. The range that he has on Pacquiao, he would just be hitting air the whole time. As fast as he is, it wouldn't be any different.
"Conor's footwork, his positioning, his elusiveness, his range — it would just be too much for Pacquiao. I feel that one would be over in one or two rounds."
Comments
comments