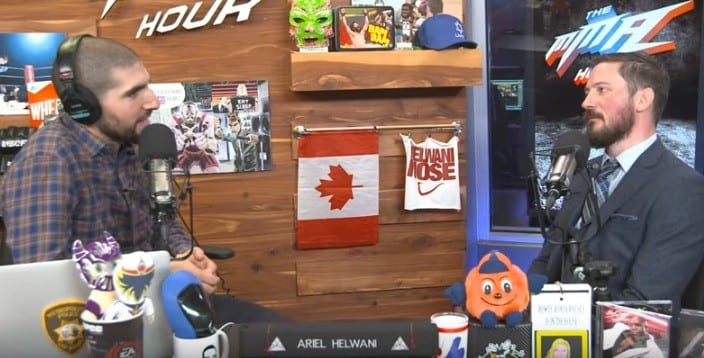 It's become something of tradition on Ariel Helwani's The MMA Hour to have John Kavanagh on the show on the week of a Conor McGregor fight. Usually this is facilitated by a grainy skype connection from thousands of miles away but this time, with UFC 205 taking place just seven blocks from the MMAFighting.com studios, a very smartly dressed Kavanagh (a step above the traditional white dressing gown, it must be said) stopped by for an in-depth discussion about his fighter's preparation ahead of his history-making contest this weekend.
And, as Kavanagh explained, for a while it didn't seem like the Conor McGregor vs. Eddie Alvarez fight was even going to happen.
"It was back and forward for weeks", Kavanagh said. "Then in the last couple of days, it was on, it was off, it was on, it was off. I went to bed that night at about 1am, I knew I was going to hear then whether we were flying the next morning. I didn't hear anything. I presumed it was off. About an hour later I just sleepily checked my phone and it said 'airport, 10am'. So it was on."
One flight to New York later, Kavanagh found himself inside the world's most famous fighting arena Madison Square Garden for the UFC 205 press conference. Those who know the SBG Ireland head coach will tell you that Kavanagh isn't particularly fond of those types of media events but there was something tangibly different about what was transpiring in this particular fight.
"I've never gone to a media event that I don't have to be at", Kavanagh explained. "But there was something about this event; I wanted to take everything in. As a team we have done some pretty cool things over the last couple of years and I feel I'm always lost in the moment. I think journalists can be a little bit guilty of this as well. While it's going on, they're always asking 'what's next?'. I wanted to be careful not to do that. I do think this is a very special event for a number of reasons and I want to savour every moment."
When Conor McGregor enters the cage this Saturday night for his showdown with Eddie Alvarez, it will be barely more than 80 days since he had his hand raised against Nate Diaz last August in what was a tough, five-round fight. Kavanagh, though, has absolutely no reservations about sending his man into the cage for the fourth time since last December.
"If I had of thought he had taken some big shots then it wouldn't have mattered to me what the event was, he wouldn't have gone in. When you've been involved in this sport for a long time you certainly realise the difference between an injury and being sore – and he was sore.
"We had an x-ray and an MRI on his ankle and it came back that there was bad bruising but certainly no break. There was actually an old fracture that showed up in the MRI but it had long since healed. I think that may have happened in the lead-up to the Mendes fight but he never even said anything.
"As for any kind of head trauma, or anything like that, you could count on one hand any clean, heavy shots that he took in that fight. Actually we just watched it again together last night and it's kinda funny looking at some of the flurries on the fence. Rogan and Mike (Goldberg) were losing their heads but if you turn off the sound and watch it, [the shots] are mostly rolled. Conor is a very, very skilled boxer and [used] that kind of Mayweather stance and was able to roll the shots and predict and go under. I guess you get caught up in the moment and it looked a certain way maybe, maybe that's why they were screaming so much but we found it funny."
Conor McGregor's quest since he entered the UFC was to be a two-weight world champion, emulating a feat he achieved in his last promotion Cage Warriors. Kavanagh thinks that this is a rarefied time for the sport of mixed martial arts and never again will this unique set of circumstances come around.
"I don't think it will be done again. It took a special person to sort of 'bend' the UFC into awarding this. Back in the simpler days of the UFC when Penn could go up and win the welterweight belt, those days are done. We're in a new era of MMA, we're in a new era of the UFC and I do believe this is the last opportunity for anybody to have two belts at the same time.
"And I believe he will do it."
Comments
comments