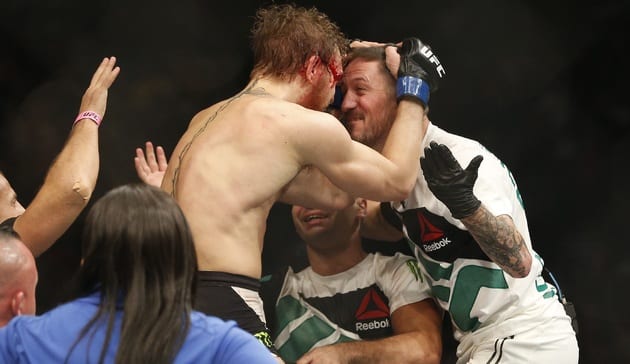 As UFC 202 approaches, the size of this rematch is starting to come into focus, as are the stakes.
The attention the rematch between Conor McGregor and Nate Diaz is receiving seems to be building. Diaz has just made appearances on two late night talk shows in Conan O'Brian and Jimmy Kimmel. The events media call has had over 460,000 views on Youtube. For perspective; the UFC 200 equivalent has under half that.
Of course with that attention, comes both a higher risk and a larger reward. Something that SBG Coach John Kavanagh can appreciate as we inch closer to fight week.
In his latest column for the42.com, Kavanagh spoke at length about the training camp McGregor has undertaken this time around, as well as just what a win -and a loss- could mean for the team.
"The word we've been focusing on for this camp is 'routine'," Kavanagh wrote. "We basically did the same thing every day since we arrived in Vegas: Leave the house to go to the gym for a skill session at 1pm, before working on cardio in the evenings.
"We've been following that pattern now for what feels like a long time — about 19 weeks in total come fight night. Although it seems like it has been a long process, we're definitely seeing the fruits of our labour. There are certain fitness tests that we have numbers on, and the improvements from when Conor began to where he is now have been dramatic.
"I've often spoken of how drastically Conor improves with each training camp, and while there's certainly no denying that he gets better for every fight, this has undoubtedly been his biggest leap forward yet. Sometimes your feelings can trick you, but when things are being measured, like they are now, then it's different."
Such words will be music to McGregor fans ears, and indeed Kavanagh's thoughts are backed up by the footage brought to you by The Mac Life. The increased size and weight in McGregor's sparring partners is easy to see.
Kavanagh also articulated his thoughts on the durability of Nate, something that plenty of fans have shared concerns about as the rematch approaches.
"It's not a secret that Nate, as well as his brother Nick, can take an enormous amount of punishment, even though we were caught out by it at UFC 196," Kavanagh said. "If you look at their fights, they're like long-distance runners. They can go for days. They walk through punches like nobody else can.
"Even if you do knock them down, they don't react like wrestlers by panicking and exposing the back. They'll gladly lie back and play guard. If you're silly, you'll end up being caught in a submission very quickly.
"They have the ability to throw shots without having to be concerned about the consequences of being hit. While they're also not the fastest guys, they're adept at setting their own pace and maintaining that right the way through.
"We're ready for 25 minutes but I do believe that the cumulative damage will have become too much by the fourth round, resulting in Nate's corner stopping the fight if the referee doesn't do it before that."
Of course, it's not just McGregor who has something to lose at UFC 202. Kavanagh places his own reputation on the line
"This is a very important fight for Conor, but I also feel that my own reputation as a coach is at stake," Kavanagh put. "This contest can be a bit of a game-changer for us all. Some observers who are obsessed with weight classes and belts don't see this as a very meaningful fight. They're more interested in seeing Conor defend his featherweight belt and going after the lightweight strap too.
"But for me, we're very lucky to be in a position to have an immediate rematch. In most cases, fighters have to be patient in order to get that chance. Having an opportunity to reverse an unfavorable result under the same circumstances just a few months later provides us with a chance to show that 'Win or Learn' isn't just a catchy phrase. It really is something we practice and we have done for a long time."
UFC 202 takes place on August 20, at the T-Mobile arena in Las Vegas.
Comments
comments