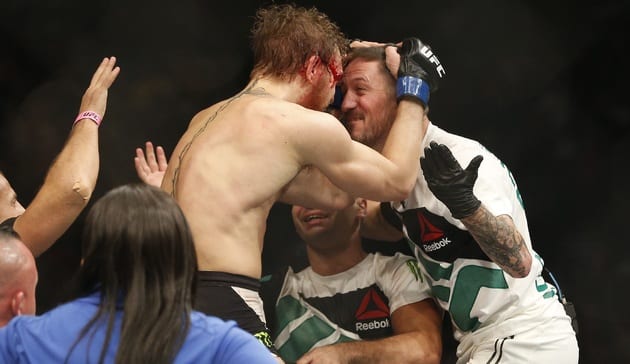 John Kavanagh has spoken for the first time about the UFC's decision to strip Conor McGregor of the featherweight title he won from José Aldo last December.
It was announced last weekend by the UFC that Aldo's interim featherweight title was being graduated into the full, undisputed championship and that the upcoming bout between Max Holloway and Anthony Pettis at UFC 206 next month in Toronto was now to be for the interim championship previously held by Aldo.
By all accounts, the reasoning for this was due to the previously billed main event between Daniel Cormier and Anthony Johnson falling off the card due to an injury suffered by the light heavyweight champion.
The SBG Ireland head coach appeared on the Red FM Breakfast Show this morning where he gave his thoughts on the matter.
"For me personally, I was very disappointed by the way [the UFC] went about doing it", Kavanagh said. "It was a very messy set of circumstances which led to doing it. They lost a main event and then they haphazardly threw together a new main event.
"They felt they had to make this for a title in order for it to sell so they brought in another interim title that Jose Aldo already has and then bumped Jose Aldo up to the current undisputed champion, which just seems ridiculous to me."
The removal of the featherweight title from McGregor marks the first time that an active, injury-free champion has been stripped of a championship — particularly when you consider that it's been just 11 months since he last competed in the 145-pound division.
Other champions like Georges St-Pierre, Cain Velasquez and more have been inactive in their divisions for a longer period of time with running the risk of losing their belts.
"Conor has only been 11 months since he won that title. There have been many, many examples of fighters waiting 15 months, 18 months before defending it. He's 11 months and they stripped him of it."
"I thought it was very shortsighted by the UFC how they went about doing it."
[H/T SevereMMA]
Comments
comments