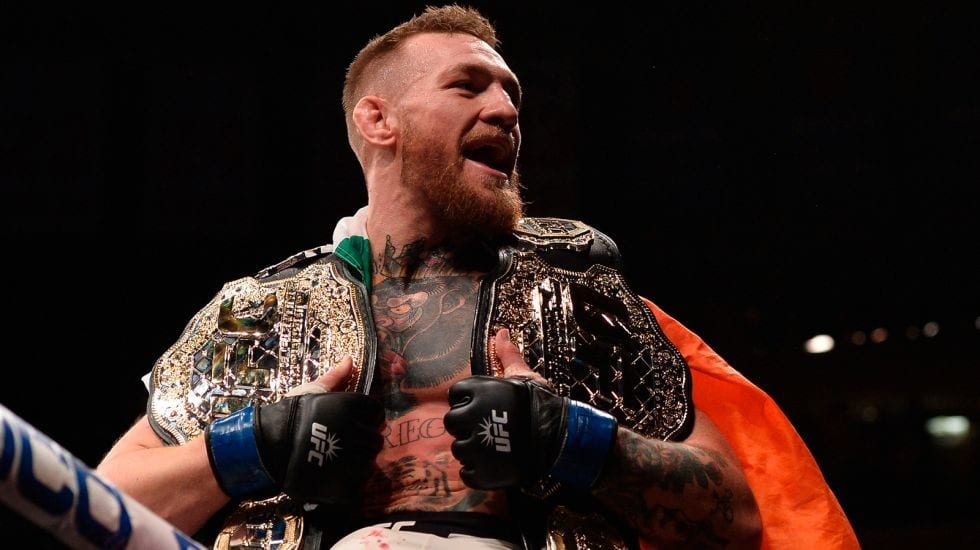 Conor McGregor said it himself inside the cage when he finally draped that second gold belt across his shoulder in New York. This is what he dreamed into reality.
More than three years ago, McGregor first entered the UFC octagon in Sweden for a bout with Marcus Brimage. The American was 3-0 in the UFC and was presumed to be a massive test for the young Irishman who was for the first time entering a stage which has humbled even the most confident of fighters.
67 seconds later, it was all over. That night in Sweden (or, more realistically, long before that) Conor McGregor set in motion a series of events which culminated earlier this month with him becoming the first fighter in the history of the Ultimate Fighting Championship to hold two belts in two different weight classes at the same time.
But McGregor's double gold triumph wasn't the only story to come out of New York this month, in what was an historic event for the UFC. What follows is a list of achievements which will forever associated with the night of November 12th in the annals of mixed martial arts history.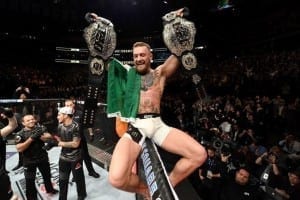 No UFC Fighter has ever held belts in two weight classes simultaneously 
Conor McGregor's win over Eddie Alvarez puts him in a class of one when it comes to double champions in the UFC. BJ Penn has won both the lightweight and welterweight titles in the UFC, but failed in his attempt to dethrone welterweight kingpin Georges St-Pierre when he was the 155 pound title holder. Randy Couture has also held both the light heavyweight and heavyweight straps, though not at the same time.
While McGregor's achievement sets himself apart from the likes of Couture and Penn, two undeniable legends of the sport, the fact that he became just the third fighter to have won championships at different weights in incredible – never mind the fact that it has happened concurrently.
Only seven fighters have won fights across three weight divisions in the UFC
Conor McGregor has a win over Jose Aldo at featherweight, a win over Nate Diaz at welterweight and a win over Eddie Alvarez at lightweight – all within 11 months. While seven fighters have recorded wins across three separate weight classes, no one other than Conor McGregor has ever done it within the span of a year.
The Knockout King
McGregor's second round knockout of Alvarez was his seventh since he joined the UFC in 2013, the most of any active fighter. A massive 18 of his 21 career wins have now come directly by knockout. As well as that, McGregor joined Anderson Silva and John Lineker as the only fighters to ever knock an opponent down three times or more on two separate occasions.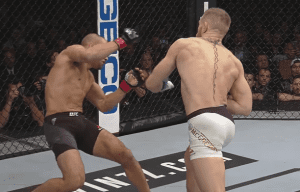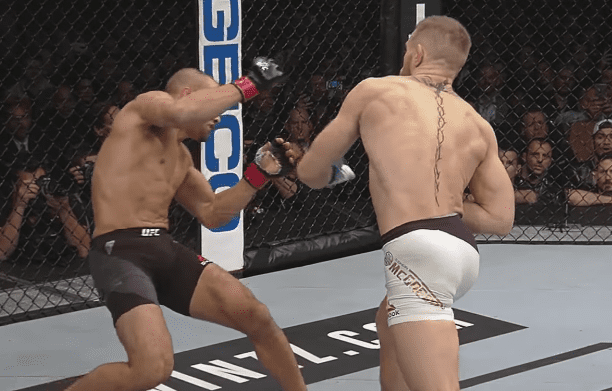 Pay-Per-View, Attendance, Gate and More
While the actual pay-per-view buyrates for UFC 205 have yet to filter out, UFC president Dana White said in the post-fight press conference that the event was trending to break every record in the book. Given McGregor's position as the company's pay-per-view king (McGregor is the primary driving force behind the UFC's pay-per-view model in recent years, as per official UFC documents), it's a safe bet to suggest that UFC 205 continued the trend of being a top seller.
UFC 205 will mark the fourth successive UFC pay-per-view which McGregor has headlined which received over 1 million pay-per-view buys. In fact, the UFC pay-per-view record has been broken four times in four successive fights within a calendar year – all by events with McGregor atop the bill.
As for gate, UFC 205 took in $17.7 million at the door. This shattered both the all time UFC record, and the all time record for Madison Square Garden. As for the people inside the building, the total of 20,247 was a new domestic record for the United States. And then there's the new global record of 15,480 who attended the weigh-ins.
The FS1 prelims were the most viewed in history. Not just that, the Fighting For History preview show was also the most viewed in UFC history. In what was a night of records, the 14 billion social media impressions surrounding the event was also a record – eclipsing even the Superbowl.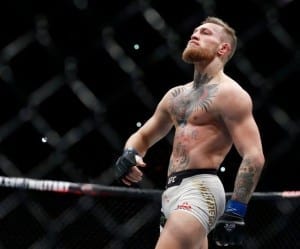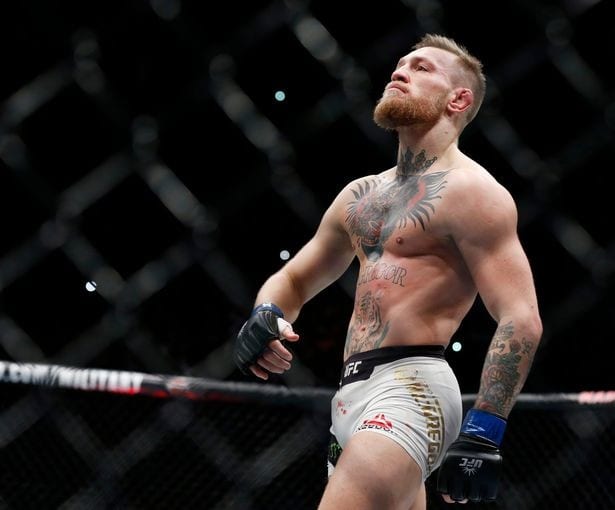 Money Talks
We can really only guess here but according to reports, McGregor received a flat fee somewhere in the region of $3 million (excluding ancillary payments) for his second bout with Nate Diaz. This was an all-time high for mixed martial arts. It's safe to presume that this record has been broken once again.
It doesn't stop there, however. McGregor received his 8th successive performance bonus from the UFC after his second round win against Alvarez. The next best streak in the organisation is six in a row.
New York City
All the talk of records, titles and purses are fantastic but perhaps the biggest record of them all, on a long enough timeline that is, is that Conor McGregor won the first headline bout ever to take place in New York City inside an arena that housed incredible moments in the history of combat sports. Muhammad Ali, Mike Tyson, Joe Frazier… they all fought – and bled – in that famous arena.
And now you can add Conor McGregor to that illustrious list.
Comments
comments