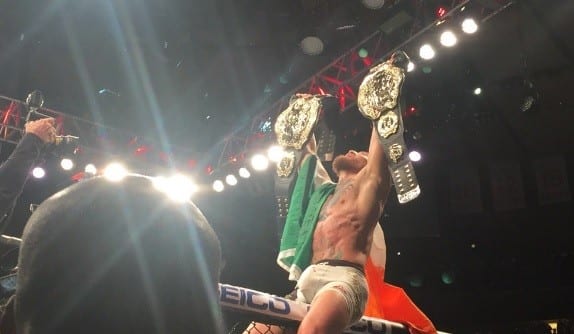 Conor McGregor claimed a permanent place in the history books when he knocked out Eddie Alvarez in the second round at UFC 205 last weekend but his historic double-belt triumph still wasn't enough for him to claim top spot in the newly released pound-for-pound rankings.
McGregor rose two spots in the pound-for-pound rankings, which are used to estimate who the best overall fighter in the sport is, landing at #2 just behind flyweight champion Demetrious Johnson. Bantamweight champion Dominick Cruz and light heavyweight champion Daniel Cormier are the two fighters that have been leapfrogged by the first concurrent dual belt holder in UFC history.
The Irishman claims the top spot in both the featherweight and lightweight divisions, with Jose Aldo, Frankie Edgar and Max Holloway in the following top spots at 145 pounds. Khabib Nurmagomedov, Tony Ferguson and McGregor's defeated opponent Eddie Alvarez make up the top three contenders in the lightweight division.
John Kavanagh, however, disagrees with these rankings. On last Monday's episode of The MMA Hour, the SBG Ireland head coach suggested that he saw Max Holloway as the toughest threat at featherweight and Nate Diaz the rightful number one contender at 155 pounds.
While McGregor's near-perfect performance in Madison Square Garden ought to have been enough to rise to the top spot in the pound-for-pound rankings in many observers' eyes, another win in either division (or perhaps even welterweight) would surely propel him to the top spot in the sport.
And as you would expect from Conor McGregor, he doesn't settle for second best.
The full UFC pound-for-pound rankings are as follows:
Demetrious Johnson
Conor McGregor
Dominick Cruz
Daniel Cormier
José Aldo
Stipe Miocic
Joanna Jedrzejczyk
Tyron Woodley
Michael Bisping
Cris Cyborg
Robbie Lawler
Luke Rockhold
Amanda Nunes
TJ Dillashaw
Khabib Nurmagomedov
Comments
comments