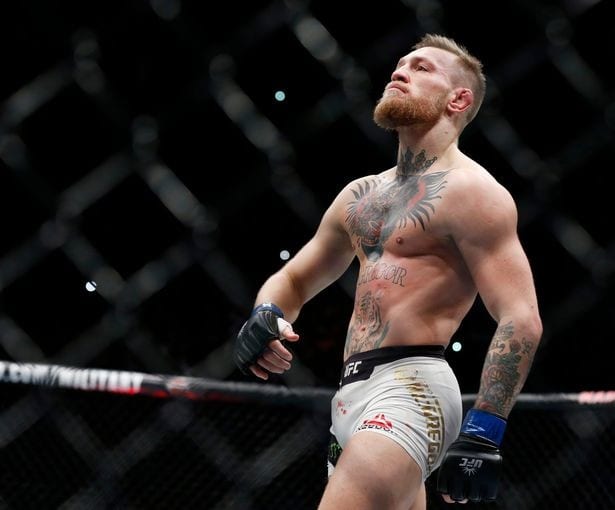 UFC lightweight champion Conor McGregor certainly doesn't seem like he's joking when he discusses boxing.
In the first time that we've heard from the Irishman since the UFC stripped him of his featherweight title, McGregor has finally broken his silence after causing wild speculation when he was granted a boxing license, Thursday.
While some pundits doubted the legitimacy of the move, or suggested it was part of a negotiation tactic against UFC, McGregor has now made it clear he see's it more as another test for him to challenge.
Speaking at a Q&A session in Northern Ireland, this evening, McGregor spoke to a packed crowd about a potential boxing move as well as (of course) a potential bout with Floyd Mayweather.
"If I focus with the work ethic I have solely on the sport of boxing, there's no telling what I could do," McGregor said. "I would not go in there just to show up, I'd go in there to knock [Floyd] out. That's it. He can be hit, he's been hit before. Age waits for no man also, so I know they know that. I know the size is on my side, I know the reach is on my side, I know the youth is on my side.
"There's a lot to lose for them, so that's why their scrambling… But that's okay, I'll leave them scrambling. I've got some other boxing opportunities and potential opponents in mind. Some previous Floyd opponents. They can bring in anyone in the game. We'll see what happens."
One of those opportunities will not be Paul Malignaggi, multi-time boxing welterweight champion, who recently challenged the Irishman to a boxing bout through social media.
"I don't even know who the fuck that is," McGregor said. "I don't know who the fuck that is but I'll slap the nose off him if he ever mentions my name again."
Stay tuned to TheMacLife.com for exclusive footage of the event, coming soon.
Comments
comments