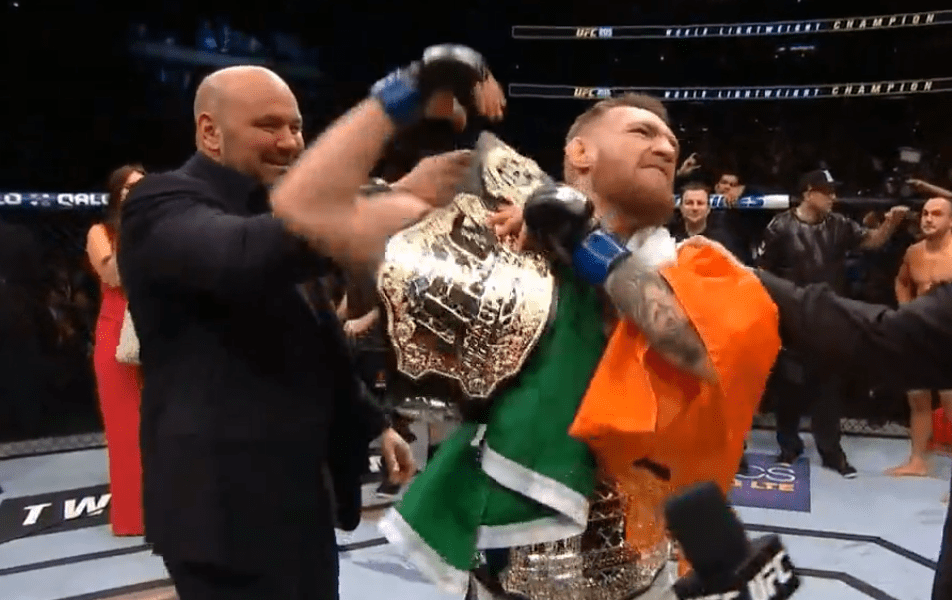 When the UFC stripped Conor McGregor of the UFC featherweight title, a couple of different narratives emerged with the news.
While the official line of the UFC was that McGregor had 'relinquished' his 145-pound belt while agreeing to hold onto his lightweight title, the Irishman himself made it quickly clear that wasn't the case. Not only did he not relinquish it, but according to an interview he gave with RTE ahead of winning their sports person of the year award, he wasn't even contacted by UFC bosses.
"Don't mind that; I'm still the two-weight world champ," McGregor said. "They can try to say what they want. They can try to put out the people that I've already destroyed. The current champion [Jose Aldo] is a guy I KO'd in 13 seconds. The current interim champ [Max Holloway] is a guy I destroyed as well. Officially I don't care what nobody says. I am the two-weight world champion, and that's that."
Conor McGregor talks to Clare McNamara after a year which he call the 'culmination of his life's work'. https://t.co/0AY8QPqGyu

— RTÉ Sport (@RTEsport) December 17, 2016
While many have wondered what exactly McGregor's next move is going to be, with boxing clearly on his mind, even McGregor himself is still undecided. With a break on the cards to prepare for the birth of his first child, McGregor is still standing by his statements post fight at UFC 205. As someone who's earned the company a multitude of millions, he feels he deserves a meeting.
"I know Dana [White's] been on record like, '10 months, he's taking 10 months,'" McGregor said. "I just don't know. I'm weighing out my options. I expect conversation. I expect them to fly that jet to me. Ari, Patrick — the new owners from WME/IMG — the guys who bought the UFC for $4 billion? I want to speak with them.
"I want to see what their plan is because right now I don't know nobody's plan. All I know is they're trying to type onto a keyboard and say, 'We're taking this belt and that belt, and we're doing this and that.' You ain't doing nothing without contacting me first. I'm ready for anything."
Comments
comments