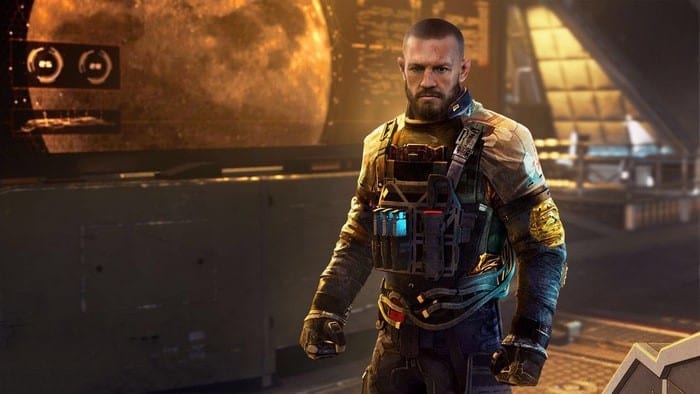 Conor McGregor has called practically every shot he's taken since joining the UFC back in 2013 but there's one thing that even Mystic Mac didn't see coming.
McGregor, who challenges Eddie Alvarez for his UFC Lightweight title in Madison Square Garden next month, has become the latest sports star to feature in the world famous Call of Duty video game series (NFL superstar Marshawn Lynch was in a previous iteration of the game) and, as the Dubliner said to Rolling Stone, this is something that he couldn't have predicted when he began his rise to the top of the MMA world.
"This is completely outside of the fight world", McGregor said to Mike Bohn of Rolling Stone. "I didn't think I would get on the front cover of a UFC video game. I saw a lot of things, but I didn't see video games. But I'm happy to be here.
"I get approached all the time with roles and all this stuff. Not many of them are interesting but this one was definitely of interest to me so I went with it and it's been good."
McGregor plays bad guy Capt. Bradley Fillion in Call of Duty: Infinite Warfare and the coincidence that it is this particular video game franchise that he is teaming up with isn't lost on him. In fact, to say McGregor is a fan of the series is an understatement.
"It's such a big game", McGregor explains. "I play a good load of games, but there's only two games I actually really play that I've been obsessed with: The UFC game and Call of Duty. Now I'm in both of them. It's very surreal."
Various film and other offers have been finding their way to McGregor's inbox thick and fast but the life of a top athlete isn't necessarily conducive to taking extended time off to shoot a movie, or work on other projects. McGregor had agreed to star in the new xXx movie opposite Vin Diesel but opted out after his UFC 196 bout with Nate Diaz in order to concentrate on his training. His role was taken by fellow European UFC champion Michael Bisping.
However while some fighters would be ruing the lost opportunity of losing out on a film role, Conor McGregor certainly isn't.
"I'm on a roll and this stuff is bigger than Hollywood right now. These games are grossing more than Hollywood blockbusters, so it seems like the right fit since I'm grossing more than anyone in the fight game also. The offer came about so naturally and I thought it over. It's such a big game."
And, as he would tell you himself, it's only big business over at McGregor Inc.
"The offer was presented to me, I looked it over and now here we are. It strengthens what I already know: I do big things."
Comments
comments