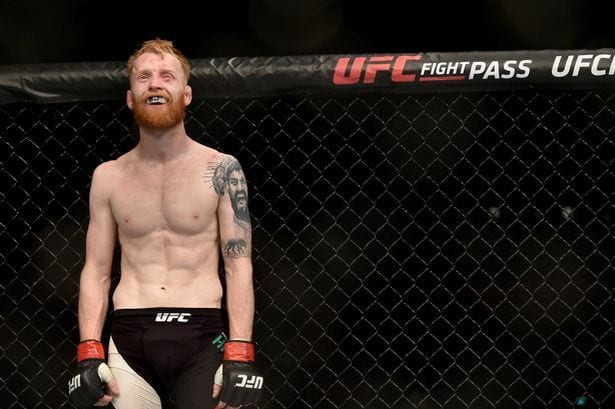 Almost exactly three years ago Paddy Holohan was forced to retire from mixed martial arts. A rare blood disorder, Factor XIII deficiency, which can cause issues related to blood clotting was cited as the reason for the forfeiture of his license to compete and, therefore, his position as a contender in the UFC flyweight division.
The disorder is an incredibly rare one. Per official statistics, it is estimated that around one in every five million people have a Factor XIII deficiency and to the best of Holohan's knowledge, he is currently the only person on the island of Ireland to have been diagnosed with this condition. One in five million.
Holohan had just turned 28 when he was forced to abandon his fight career, bringing an end to a journey which began by getting into scraps on the streets of Jobstown in South Dublin, to discovering Brazilian Jiu Jitsu and mixed martial arts. It would be through these avenues that Holohan would find his voice.
ELECTED: Cllr @PaddyHolohanMMA has topped the poll in the Tallaght South LEA and is elected to South Dublin County Council. Comhghairdeas Paddy! #LE19 pic.twitter.com/fQzHkxJSTb

— Sinn Féin (@sinnfeinireland) May 26, 2019
His fight career took him to the United States and Canada to compete but it was a July evening in his native city five summers ago which will stand alone as his singular highlight, when he submitted Josh Sampo minutes into his UFC debut in front of 10,000 of his countrymen at the historic UFC Dublin event in July 2014. The fight set into motion a sense of momentum which continued all the way to the main event, where Conor McGregor completed the 'takeover' by defeating Diego Brandao.
Holohan's next fight inside the same arena was a main event slot.
For some, Holohan's career — even cut short — would have been enough to retire to the pub, to bask in the glory of being one of only two Irish fighters to ever headline a UFC event. He'd never have to buy a pint again, his status as a local legend fixed in stone. But that was never going to be the case. Holohan, who had coached in various capacities since his early 20's, jumped into a head coaching role in Tallaght, a community in South Dublin of which Jobstown is a suburb of.
Seventh Count results for Tallaght South. #LE19 #sdcc19 Quota is 973.

Corr (SD) – 786
Dunne (SF) – 783
Holohan (SF) – 1048
Pereppadan (FG) – 966
Richardson (SF) – 836

— South Dublin Co Co (@sdublincoco) May 26, 2019
One of his motivations, perhaps his primary one, was to engage the local youth. Crime and drugs are an unfortunate inevitability afflicting numerous communities in Ireland and Holohan knows from experience that the diverging paths available to youngsters today can be ruinous if not navigated adequately. His gym, SBG Dublin 24, has provided an outlet for community members to channel their energies in fruitful, athletically healthy ways. Some will likely even go on to mirror Holohan further by competing in amateur and professional mixed martial arts.
Holohan's imprint is already obvious in his community but with his election to South Dublin County Council on behalf of Sinn Fein made official on Sunday evening, it is set to balloon.
"I am one of you. If you voted for me, that was a vote for you," he said immediately after coming in first place in the County Council elections. "When I'm in the Council, I will be tackling the same problems that you have — not problems that belong off somewhere else. I am going to engage our youth. We need to get our youth to realise that there is hope out there. The idea of not being able to afford a house straight out of school takes away your hope and it's the worst thing you could ever do to a human.
"We next to get a system together and let's fix this because it's broken."
I topped the poll with #1 votes & have been elected by the community I grew up in! Thank you to everyone who voted for me! I love you Jobstown…from council kid to councillor 💚 #believe #breakthemould #teamhooligan… https://t.co/qn2crP2p3K

— Paddy Holohan (@PaddyHolohanMMA) May 26, 2019
The Irish housing crisis is especially prevalent in the capital. Rent prices have skyrocketed and with the cost of living already among the most expensive in Europe, it is hamstringing an entire generation of Irish people who feel that no longer does their life stretch out blissfully in front of them immediately out of school or college. Instead, life becomes a balancing act.
"Fianna Fail and Fine Gael (the two most prominent political parties in Ireland) have been in power for 100 years and they've failed the people again and again," Holohan said to Ariel Helwani recently, speaking of the banking crisis which led to privatisation of housing which led to thousands of people losing their homes.
"Thousands of people found themselves homeless overnight. We're talking about a married couple, say, that had good jobs. Homelessness over here is not drunks on the street, it's not people with drug problems — there is a small portion of that of course — but the big part of this is a lot of these houses have been sold, the debts have been sold to vulture funds. They are buying up these debts at a tiny cost off the Irish government. They are selling these houses and people are becoming homeless overnight."
The 31-year-old is under no illusions as to how difficult of a fight this will be. The problems he faces are complex and there is no easy fix available but few people understand this community better than one of its favourite sons. The place that forged Paddy Holohan is now represented by him and its community is in his corner.
You might say that he's one in a million. Or, make that one in five million.
Comments
comments