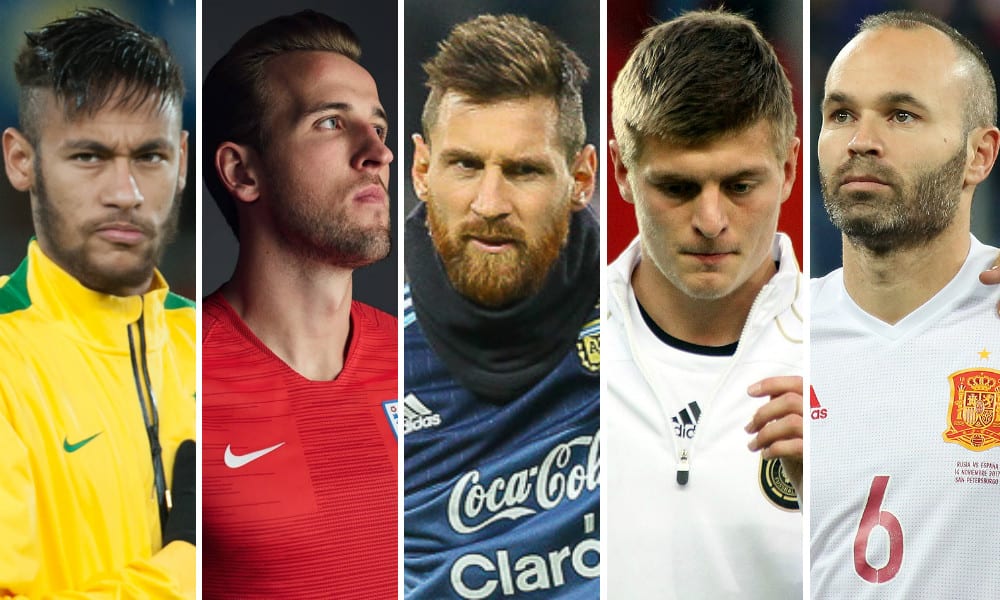 The World Cup is finally upon us, as 32 nations do battle in Russia for the biggest prize in world sport.
But who are the nations most likely to still be challenging at the sharp end of the tournament? Who are the dark horses who could break from the pack and challenge the big guns? And which teams should already be booking their early flights home?
Here's our quickfire guide to the 32 teams set to dominate our screens throughout the next month.
GROUP A

Russia
Short of an officiating conspiracy on a grand scale it looks unlikely that the hosts will get out of their group, despite being the seeded team (a technicality, given they're hosting the tournament). Their group isn't strong, but neither is their squad. Mr. Putin won't be amused.
VERDICT: Group stage exit
Saudi Arabia
The Saudis will offer a soft start to the tournament for Russia, and are unlikely to cause their fellow Group A rivals too many issues. Anything other than an early exit would be a massive shock.
VERDICT: Group stage exit
Egypt
Led by the talismanic presence of Liverpool striker Mo Salah, Egypt look a better bet for qualification than both Russia and Saudi Arabia. They're not quite a one-man team, but if Salah is fit and on form, they could cause an upset or two.
VERDICT: Second round
Uruguay
Blessed with a lethal front line of Edinson Cavani and Luis Suarez, Uruguay's side is talented, if possibly a little past its best. They're still more than good enough to progress, though, and their forwards could be nicely warmed up for the knockout stages after qualifying from a soft-looking group. Dangerous dark horses.
VERDICT: Quarter-finals
GROUP B
Portugal
If Cristiano Ronaldo is on form, he can drag the Portuguese deep into the tournament, but it's a big ask. They should progress from the group, but the European champions need to avoid a heavy defeat by Spain in the opening game to ensure they don't get shocked in the group.
VERDICT: Second round
Spain
Surprisingly not rated in the top two favourites for the tournament, Spain look as strong as ever. And with the ability to throw battering-ram striker Diego Costa into the mix, they have a plan B if their famed tiki-taka passing game fails to break down stubborn opponents. The shock sacking of their head coach 48 hours before their opener against Portugal isn't exactly the ideal preparation, but director of football and former Spanish skipper Fernando Hierro knows all about leading the side in big tournaments and should be a safe pair of hands.
VERDICT: Semi-finals
Morocco
In a weaker group the Moroccans might have stood a chance of progression, but with a strong Iranian side plus the European superpowers of Spain and Portugal in the same group, a first-round exit looks inevitable.
VERDICT: Group stage exit
Iran
If Spain or Portugal aren't on form, Iran might just cause a problem or two. A strong, physical side, they could take points off at least one of the big two. And if they do, things might get interesting for the second qualifying spot
VERDICT: Group stage exit
GROUP C
France
If you're looking purely at squad strength, France might just have the best collection of players in the tournament. Packed with youth, pace and athleticism, the French look poised for their best tournament since they won it on home soil back in 1998.
VERDICT: Runners-up
Australia
The Socceroos have been handed a tough draw here, and will struggle to progress from a strong group. Look out for the evergreen Tim Cahill, who is bidding to become only the fourth player to score in four different World Cup finals tournaments. If he does, expect the usual corner-flag boxing celebration to get another airing.
VERDICT: Group stage exit
Peru
They have a magnificent kit, and a great chance to make it through to the knockout stages. Their talismanic striker and captain Paolo Guerrero has had his FIFA drugs ban overturned and will be their key man this summer. If his form in front of goal continues, expect them to progress.
VERDICT: Second round
Denmark
The Danes will be well organised and tough to break down, plus they'll have the creative genius of Christian Eriksen in midfield. But without an established elite-level finisher up top, those Eriksen-created chances may go begging.
VERDICT: Group stage exit
GROUP D
Argentina
Can Lionel Messi do it? Probably not, to be honest. The little wizard is undoubtedly a genius, but he doesn't have the supporting cast around him to take him all the way to a World Cup. He's very, very good, but he's no Diego Maradona. They'll progress, but eventually get found out against one of the tournament's very best teams.
VERDICT: Quarter-finals
Iceland
Will the thunderclap kings produce another fairytale tournament after their brilliant showing at the Euros two years ago? It's a tough ask in a difficult group. Plus the surprise factor is no longer there. Their rivals will be ready, and the smallest nation in the tournament will most likely go home after the group stages.
VERDICT: Group stage exit
Croatia
Always packed with talent, but somehow always missing something that will take them deep into a tournament, Croatia have the firepower to do some damage in Russia, but not enough to get past the second round.
VERDICT: Second round
Nigeria
Everybody's talking about Nigeria ahead of the World Cup, but it's not because of their team. They have a quite fantastic kit, but despite having a squad with a fair degree of talent, they may just lack the tournament smarts to progress.
VERDICT: Group stage exit
GROUP E
Brazil
Neymar is at his peak, and Brazil have a strong squad, but I'm not convinced they're the tournament favourites some bookmakers think they are. When push comes to shove, a well-organised side with a clinical finisher could put the 'selecao' out. They'll go close, and they may fall agonisingly short, but they'll play some fantastic stuff along the way.
VERDICT: Semi-finals
Switzerland
The Swiss will offer stubborn resistance, but not a whole lot else. When games are tight and they're looking for a piece of individual flair to win a game, the Swiss may well be found lacking.
VERDICT: Group stage exit
Costa Rica
Costa Rica did superbly in the last World Cup, but aren't likely to repeat their group-winning exploits of four years ago this time around. The squad hasn't changed that much, and their hopes of progression may hinge on their opening game with Serbia.
VERDICT: Group stage exit
Serbia
The Serbians have a solid-looking squad that represent a solid pick to progress to the knockout stages. They're big, strong and have top-level experience with the likes of Aleksandar Kolarov, Nemanja Matic and Branislav Ivanovic. Expect them to qualify behind Brazil, but not go too much further.
VERDICT: Second round
GROUP F
Germany
Gary Lineker once said football was "A simple game. 22 players chase a ball around for 90 minutes, and when it's all over, the Germans win." Nothing's changed since. Nailed-on semi-finalists, and probable winners.
VERDICT: Winners
Mexico
Mexico always fare well in the group stages of the World Cup, and there's no reason not to expect them to do the same again here. In terms of pure talent they clearly have the second-best squad in the group. Only indiscipline will keep them from qualification.

VERDICT: Second round
Sweden
Zlatan-less Sweden arrive in Russia as a more unified team, but decidedly lacking in finishing ability. They'll be set up to be tough to beat, but a lack of goals will likely cost them in the final reckoning.
VERDICT: Group stage exit
South Korea
Who can forget South Korea's incredible run to fourth place on home soil back in 2002? 16 years on, the "Taegeuk Warriors" are unlikely to repeat that feat. Much will depend on Tottenham striker Son Heung-Min's ability to find the net if they're to challenge for qualification.
VERDICT: Group stage exit
GROUP G
Belgium
International football's 'Red Devils' have called their squad 'The Golden Generation', which, if you remember England's identically-named era, suggests abject failure and disappointment is just around the corner. But this Belgian side looks to have all the qualities to make it to the last 16, providing they keep their key men fit.
VERDICT: Second round
Panama
The second-smallest nation to qualify for the World Cup, Panama scraped through by the narrowest of margins, with a negative goal difference. Not the sort of credentials you're looking for if you're trying to get out of your group.
VERDICT: Group stage exit
Tunisia
The top-ranked African nation in the tournament, but one that few are giving much of a chance to, given the draw. If they can take points off England in their opening match, they could cause a shock. If not, expect them to go home early.
VERDICT: Group stage exit
England
For the first time in a long time, England arrive at a major tournament without the burden of expectation, and with a talented young squad. If encouraged to play without fear, they could be dark horses in the tournament, but England fans shouldn't get their hopes up. We've seen England sides implode before…
VERDICT: Quarter-finals
GROUP H
Poland
The Poles will arrive in Russia with a strong squad, no travel hangovers and arguably the best pure front man in the tournament in Robert Lewandowski. They'll likely duke it out with Senegal for the second qualifying spot, which makes their meeting in their first game absolutely crucial to their chances.
VERDICT: Group stage exit
Senegal
Packed with vibrant, talented players, Senegal may offer the most exciting challenge from Africa this summer. They've gone deep into a tournament before, back in 2002, and under the leadership of head coach Aliou Cisse (who captained that 2002 squad), hopes are high they can reach the knockout stages again.
VERDICT: Second round
Colombia
They entertained the world four years ago, and they have the talent to do exactly the same again in Russia this summer. James Rodriguez will be crucial to their hopes, as will the goals of Radamel Falcao who, at the age of 32, is set to play in his first World Cup. Expect them to progress, but not quite go all the way.
VERDICT: Quarter-finals
Japan
The "Blue Samurai" have been given a horrible draw against three strong, talent-filled nations, and look like spoilers at best. They won't progress, but their performances may have a major say in which of the other three nations do.
VERDICT: Group stage exit
Comments
comments