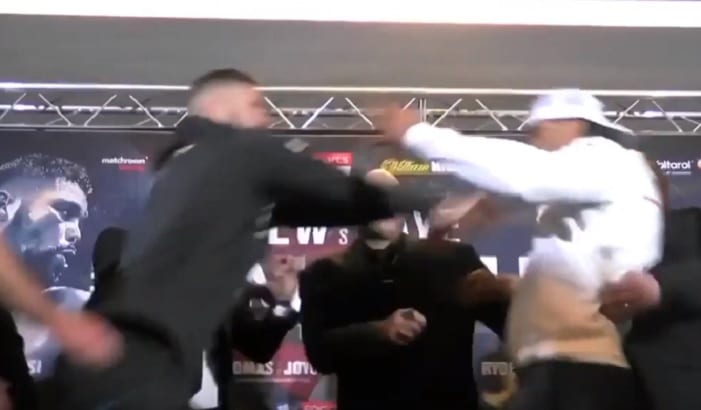 Tony Bellew and David Haye almost came to blows on Thursday in the final press conference before their rematch, one of the biggest British boxing matches in recent history, on Saturday night.
Tempers were frayed when Bellew and Haye posed for a staredown at the culmination of the press conference. Bellew, flanked by his promoter Eddie Hearn, pushed Haye away when the came nose-to-nose in front of the media before both fighters were separated by security.
The incident brings back memories of a press conference featuring the two in November of 2016 to promote their first fight, in which another scuffle broke out with Haye appearing to land a left hook on Bellew.
Ohhhh sh*t it's kicking off here, Bellew just shoved Haye differently 😮😮😮 #BellewHaye2 pic.twitter.com/m4dGV2TKnR

— GRM Daily (@GRMDAILY) May 3, 2018
The first meeting of Bellew and Haye took place in March of last year. Haye, a former two-weight world champion, was heavily favoured going into the bout with his fellow Englishman and started the fight aggressively, clearly looking as if he intended to get Bellew out of there early. Bellew's more tactical performance paid off however, forcing his opponent to miss frequently.
The fight took a turn for the bizarre in the sixth round. In what was a relatively even fight up until this point, Haye injured his achilles tendon after distributing his weight awkwardly on his right ankle — something which was severely inhibit his mobility for the remainder of the bout.
Haye was sent to the canvas on more than one occasion as a result of Bellew's aggression and the injury, and fell between the ropes in the 11th round prompting his corner to throw in the towel and award the victory his opponent.
Will there be a repeat this Saturday when two of British boxing's biggest names duel once again? Time will tell.
Comments
comments