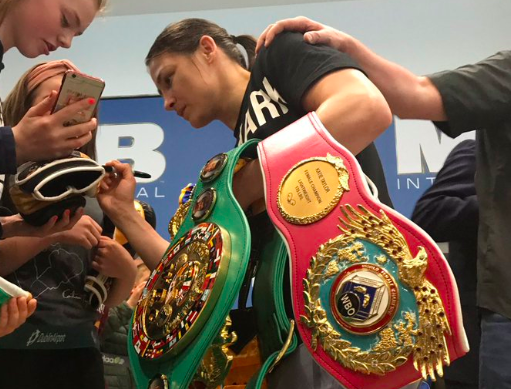 Ireland's most successful boxer in history, Katie Taylor, is back on home soil after defeating Delphine Persoon by majority decision inside Madison Square Garden on Saturday night. 
The victory, secured on the judge's scorecards after a competitive ten rounds of highly competitive action, stands Taylor alone as the lightweight division's undoubted ruler and places her in rarified territory as one of three women to hold all four major world titles in her weight category. Cecilia Braekhus (35-0) holds all four at welterweight while Claressa Shields (9-0) has done the same at middleweight.
Welcome home @KatieTaylor A hero's welcome for the undisputed lightweight World Champion @DublinAirport #WelcomeHomeKatieTaylor pic.twitter.com/oqPEOdN5bF

— Dublin Airport (@DublinAirport) June 4, 2019
The close nature of Saturday's bout dictates that a rematch between the two fighters is practically inevitable but ahead of that particular challenge to come, Taylor was afforded a moment to revel in her last when she touched down in Dublin airport early Tuesday morning to a welcome befitting a world champion.
Taylor was flanked by the opportunistic Minster for Transport Shane Ross and her manager, Brian Peters, and displayed her hard-earned world titles to the public in attendance — the most recent addition, the WBC lightweight title, being the most difficult to capture.
"It's great to touch down on Irish soil again. To see the support here is phenomenal. This is an absolute dream. The best part is to see all the female boxers here." @KatieTaylor arrived back in Dublin with fans and media waiting. pic.twitter.com/A2wWdPUEzD

— RTÉ Sport (@RTEsport) June 4, 2019
"I feel a lot better than how I look right now!", Taylor said to RTE. "It's great to be home. I haven't been home in a few months. It's great to touch Irish soil again and to see all the support come out, it's absolutely phenomenal.
"There has been a lot of people supporting me through all these years and to be holding all these belts now — undisputed champion — the pinnacle of the sport, this is an absolute dream."
As for the fight itself, Taylor says it was "very, very close" but remains steadfast that she did enough to have her hand raised.
"I don't think I had any doubts. Brian knew that I had it from early on in the fight, I think I wracked up some of the earlier rounds. It was a great fight, that's what happens when the best fight the best. It was an absolute battle but thankfully I came out victorious."
Electric atmosphere at Katie Taylor walks through the doors! pic.twitter.com/IjrKjipqHE

— Kacey O'Riordan (@KaceyORiordan) June 4, 2019
Fans getting treasured photos with Katie Taylor, and doubtlessly equally treasured shots with Shane Ross thrown in for no extra charge. pic.twitter.com/LUpKuDlKW9

— Jack Horgan-Jones (@JackHoJo) June 4, 2019
—
Comments
comments