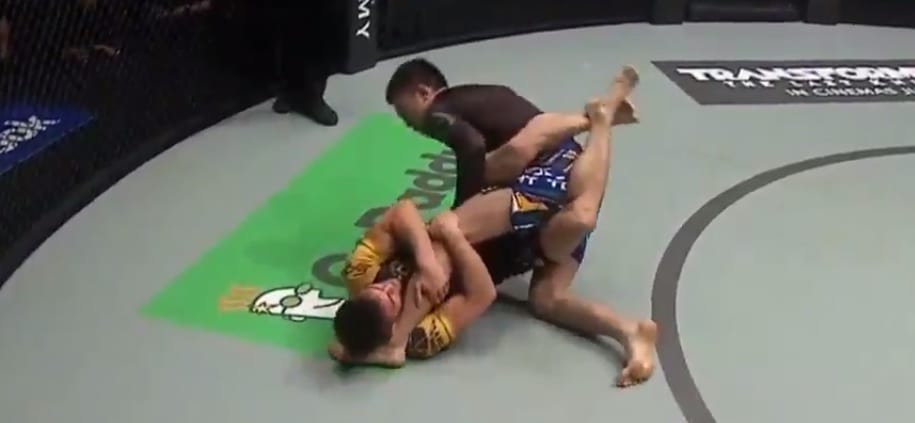 Garry Tonon has finished Japanese grappling ace Shinya Aoki with a heel hook in an exhibition match at One Championships' 'Dynasty of Heroes' event in Singapore today.
'The Lion Killer' Tonon won the match, the first ever pure grappling match to take place under the ONE FC banner, in front of a sold out audience at the Singapore Indoor Stadium.
Aoki, an MMA fighter with a professional record of 39-7 (1) but also considered among the sport's most elite submission artists, dominated the early exchanges before falling victim to a Tonon heel hook in the latter stages of the contest.
Tonon began the match as the aggressor, jumping for guard and even a flying triangle but Aoki secured a double leg and began to control position eventually, after a number of exchanges locking in a body triangle and attempting to secure a rear naked choke.
Ultimately, though, Tonon's class was telling as he reversed an Aoki takedown attempt and rolled into one of his heel hooks which forced the tap.
Garry Tonon is scheduled to face Dillon Danis in what will be a pairing of two of the game's absolute elite grapplers at Polaris 5 in August.
You can watch footage of Tonon's finish below via FloCombat.
GARRY. TONON. #ONEFightNight #Singapore #WATCH NOW (US ONLY)📱💻🖥📺 ☛ https://t.co/kNR1SuzMQn pic.twitter.com/ahwxLotMD1

— FloCombat (@FloCombat) May 26, 2017
.
Comments
comments