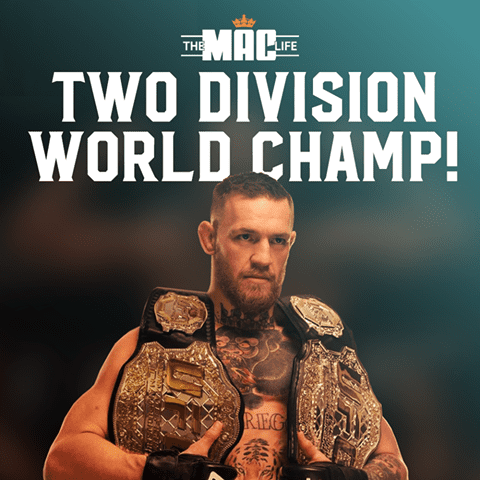 Conor McGregor is the first ever UFC fighter to hold two belts in two separate weight classes — at the same time.
Speaking after his victory over Eddie Alvarez, a second round TKO that sent the crowd into mania, McGregor made it clear that while anyone else may not have been sure; he was.
Bruh 😂 https://t.co/CetRbjPwYy

— The Sports Quotient (@SportsQuotient) November 13, 2016
"They're not on my level," McGregor said in his post-fight interview. "You got to have size, reach, length. You got to have attributes – if you come in anyway similar to me, I'm going to rip your whole head off, I say it every time."
TWO. WEIGHT. WORLD. CHAMP!! Take a bow @TheNotoriousMMA at #UFC205 #ConorMcGregor pic.twitter.com/yxd9JbgVWG

— Love Belfast ❤️ (@love_belfast) November 13, 2016
Now the man atop two divisions, something that will surely raise the ire of several of his fighter colleagues, McGregor — with a belt on each shoulder — made sure to acknowledge them with a heartfelt statement.
"I've been in this business a long time," McGregor said. "I've spent a lot of time job slaying everybody. Backstage I'm starting fights, I've ridiculed everybody, and I just want to say from the bottom of my heart… I apologize to absolutely nobody! Fuck everybody!"
Then, the last words from the Double-Champion before he left to celebrate.
"You're welcome."
Comments
comments