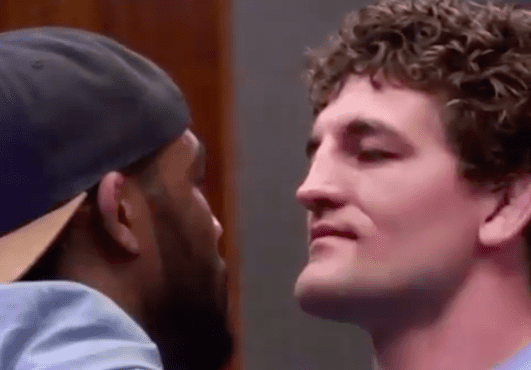 Two of the United States' most decorated amateur wrestlers will clash on Monday in New York City when Ben Askren and Jordan Burroughs collide at 'Beat the Streets NYC'.
Askren is currently one of the most talked about fighters on the UFC welterweight roster but prior to putting on the 4oz gloves he was noted for his outstanding amateur wrestling career which brought him to the 2008 Olympics, though he didn't medal in the tournament.
Burroughs, meanwhile, is one of the most successful amateur grapplers of recent times. The 30-year-old claimed gold at the 2012 Olympic Games in London, the highlight of a combined World Championships & Olympic career which saw him earn a 33-4 record against world class opposition.
Both men made weight in New York on Sunday ahead of Monday's match and, judging by their reactions, both men are very much anticipating what should be a very competitive and fascinating encounter.
View this post on Instagram
"I would like to think [that I'm too much for Askren]," Burroughs said recently to Pundit Arena's Cillian Cunningham.  "I'm going to go out there and compete at the highest level and see what I can do.  [We] had an opportunity to go one-on-one about a year-and-a-half ago so I am familiar with his movement and his motions."
Burroughs has so far resisted temptation to transfer his skills to mixed martial arts but did suggest on Ariel Helwani's MMA Show via ESPN recently that he would consider taking one fight just to scratch it from his bucket list.
That immediately raised interest from Chael Sonnen, who made a formal offer to face the American wrestler which was turned down by Burroughs.
"This can be a pretty cool way for us both to elevate our brands," Burroughs explained of the Askren match to Pundit Arena. "He has been out of the wrestling game for a long period of time but people in wrestling still know who he is but they haven't seen him compete.
"He was really good when he did wrestle and with him being an MMA guy, guys who are unfamiliar with the sport, non-traditional wrestling fans who have never seen Olympic-level wrestling, there will be a lot of cross-over. I think it's beneficial for both of us and I think it's going to be a great, great, great show so regardless of the outcome of the match, I think that the buzz that we generate – the event is sold out. Wrestling doesn't do that."
Ben Askren vs. Jordan Burroughs takes place on Monday.
Comments
comments