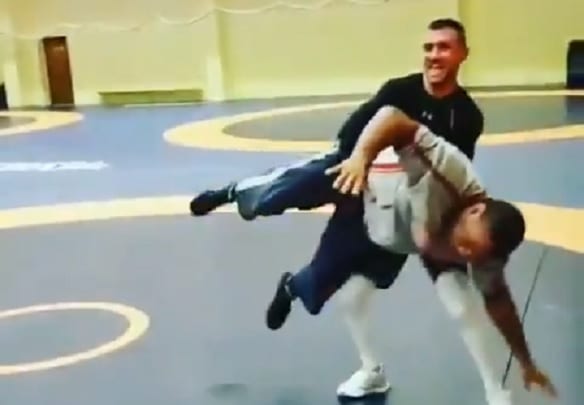 With the retirement of Floyd Mayweather, as well as the lack of a winner in last year's Gennady Golovkin and Saul 'Canelo' Alvarez fight, it would be considered a very non-controversial statement to suggest that Vasyl Lomachenko is the world's top pound-for-pound boxer.
The Ukrainian fighter defeated Guillermo Rigondeaux, forcing the then-undefeated Cuban to quit on his stool — the fourth successive Lomachenko opponent to suffer that particular consequence.
In his 11 bouts since turning professional Lomachenko has won world titles in two divisions and has his sights next set on Jorge Linares, a four-time world champion in three weight classes. Lomachenko. The move would see Lomachenko move up a further five pounds in his quest to be a three-division champion in just his 12th professional contest.
With discussions currently underway as to making the fight a reality, Lomachenko turned up the heat on social media. He posted a video of him practicing his wrestling and executing what appears to resemble a 'Karelin Lift', a technique named after Alexander Karelin who is considered by most to be the best Greco Roman wrestler of all time. Check it out below.
You ready to fight me at 135 @JorgeLinares ? If not, maybe I'll go win a belt in the UFC first while waiting on you. 😂 pic.twitter.com/XHApvExSoD

— Hi-Tech Lomachenko (@VasylLomachenko) January 29, 2018
The fact that Lomachenko is working on his grappling shouldn't come as too much of a surprise to anyone who has followed his career. Lomachenko has trained in sambo, judo and wrestling since his teens but largely abandoned that aspect of his training to concentrate on his boxing career, with good cause too — he is thought to be the most skilled amateur boxer in history.
While it's hugely unlikely that Lomachenko will ever compete inside of an octagon, that hasn't stopped at least one member of the UFC roster from testing the waters as to the potential of a future bout.
Come to the Octagon and let's do this. Hit up @danawhite @seanshelby https://t.co/OzdKWIX7Vo

— TJ Dillashaw (@TJDillashaw) January 29, 2018
Dillashaw sparred with Lomachenko last year and later said: "He put it on me. He's animal. He's a cardio machine. He doesn't give you a break. So much respect. Just to share the ring with the guy was amazing. I would never pass up the opportunity. I wish I was in a little bit better shape, but it was amazing."
Comments
comments