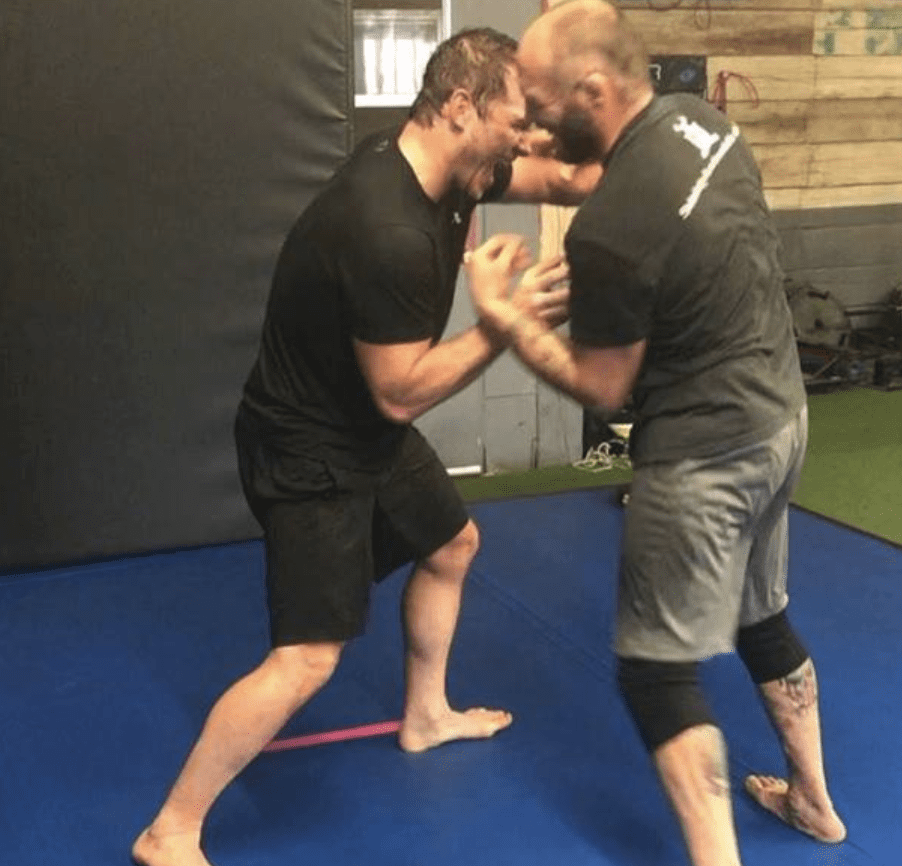 Who knew 'Star Lord' was such a fan of mixed martial arts? If the latest post of Chris Pratt, star of Guardians of the Galaxy and Jurassic World fame, is anything to go by, he's more than a casual viewer.
Actually, it turns out that Pratt is a longtime wrestler with a keen passion for the sport — even wrestling on the same mats as Josh Barnett on occasion. Today, he added to his credentials, and can now boast of being a training partner of UFC Hall of Famer Randy Couture.
"Randy first coached me when I was 17 at Oregon State University wrestling camp," Pratt wrote on a Facebook post that showed him grappling the UFC legend. "After a greco roman training session consisting of throws he invited teenage me to come up and demonstrate the three throws we'd learned that day: the underarm spin, lateral drop and head and arm. It was such an honor. Everyone cheered as I slammed Coach Couture to his back. Not once, not twice… but three times.
"A few years later I was one of millions watching on TV as Randy entered The Octagon for the first time and dominated, eventually winning and defending the heavyweight title for years. He is a Pacific Northwest native and all around great dude. Gotta love the wrestlers mentality and work ethic. It's a great sport which helped keep me out of trouble when I was younger and taught me to grind. I've always said it, wrestling made me who I am today. I dedicated years of my life to grappling. I still love it.
"Take your sons and daughters to a wrestling practice! It's important our kids have adults to look up to outside of their parents. Here's a shout out to all the coaches out there making a difference. Big thanks to Randy!"
–
Comments
comments