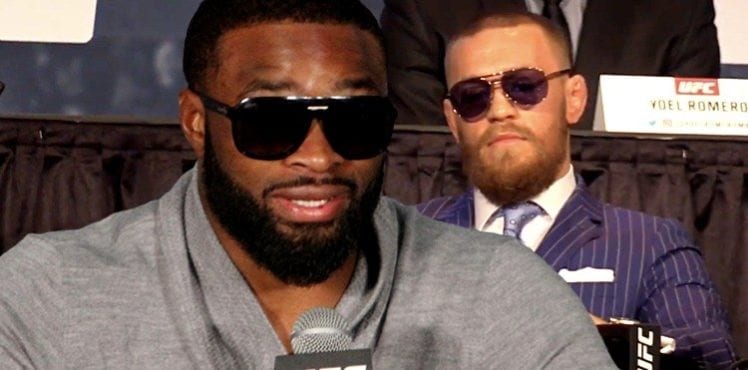 While Tyron Woodley and Conor McGregor may have had their run ins during the days prior to UFC 205, it's clear the welterweight champion has respect for the Irishman.
After the news broke of McGregor being licensed as a boxer in the state of California, many were left confused and speculating on just what he could be up to. But while Woodley isn't privy to McGregor's motivation behind the move, he doesn't find the idea that the lightweight champion is faking interest particularly convincing.
"I don't know if it's a punk thing," Woodley said, speaking with TMZ Sports."If it's something he's doing, y'know [trying to] show the UFC that he's the boss. He just 'relinquished' his featherweight title, which I don't think he wanted two belts just to give one up. But, I don't know what his motives are.
"For the fans and people who are thinking that this is a bluff, it's not really a bluff," Woodley said, speaking with TMZsports. "If Conor decided that 'I wanna walk and take this $100 million fight with Floyd Mayweather', no-one, including myself could knock him for doing that. Or [saying] 'ah, he's scared to fight'. That's not really anything.
Woodley is currently angling for a bout with McGregor at a UFC pay-per-view in February of the new year. While that remains unlikely, with McGregor's impending fatherhood keeping him out of action until the middle of next year, and despite the fact that the two had some altercations, Woodley made a point to say he respects his potential opponent.
"I respect Conor for what he's done for the sport, for the moves he's trying to make for himself. I do think this is just him showing, not only the UFC but the fans, that he's serious about the potential match with Floyd Mayweather."
Any fight between McGregor and the legendary boxer would likely send pundits into overdrive, and the MMA champion would most likely be listed as the underdog. As far as Woodley, a Fox Sports analyst, is concerned though; it could be a more competitive affair than most realise.
"I think it can be way more interesting than people realise," he said. "I can't just see Floyd Mayweather going out there and just knocking Conor out in the first couple rounds. Conor McGregor, man, he does have some really good timing. If you watch him in his fights, and slow it down a few times. He's slipping inside, outside. That four piece he hit Eddie Alvarez with, that was one of the slickest combinations I've seen in a very long time."
Comments
comments