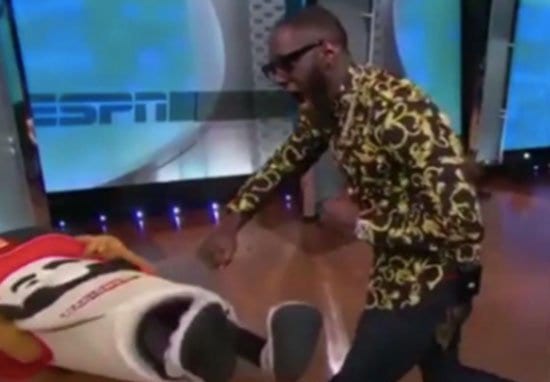 So here's one to liven up your Saturday.
Earlier today, boxing heavyweight champion Deontay Wilder made an appearance on Nacion ESPN to promote his upcoming bout with Tyson Fury. During the segment, Wilder was invited to punch a mascot who'd come onto the stage. Evidently, Wilder was more than willing to play his part.
Except usually in these segments, fighters might consider holding back on their amusing punches, maybe allowing the poor bloke inside a tortilla costume a chance at avoiding real damage. But nope. Not Deontay Wilder.
Wilder socked the mascot with a savage right hand that dropped the tortilla to the floor, reportedly leaving the actor suffering from a broken jaw. According to Wilder, he didn't realise there was a person in there.
Check it out below.
#DeontayWilder is mad
Man broke the guy's jaw
Claiming he didn't know there was a real person inside!!

Did he think there was a robot inside there!! pic.twitter.com/bYPNmSeTxc

— khaife (@kaife_88) October 12, 2018
Wilder and Fury are set to meet December 1 in Los Angeles.
Comments
comments