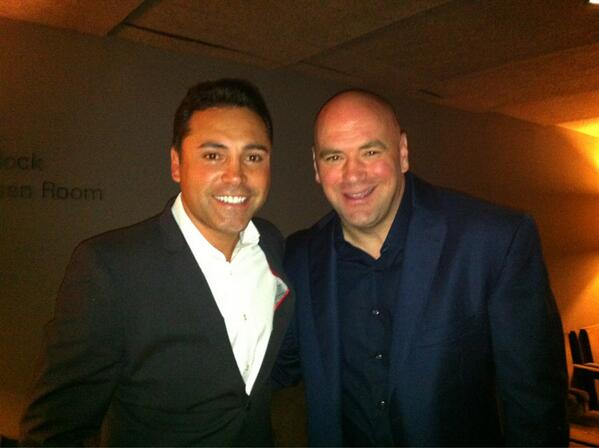 It appears UFC president Dana White is unimpressed with Oscar De La Hoya.
The Golden Boy promoter and legendary boxer made headlines last week after he posted a lengthy statement to his Facebook decrying the potential boxing match between Conor McGregor and Floyd Mayweather as something from which "boxing could never recover."
In the statement, De La Hoya made time to emphasise that his displeasure over a McGregor/Mayweather bout had nothing to do with potentially taking shine away from his fighter Canelo Alvarez' September contest with Gennady Gennadyevich Golovkin, White today refuted those claims, posting two clips to his social media that seem to contradict De La Hoya's words.
The first shows a recent De La Hoya interview, where he claims any meeting between McGregor and Mayweather would be disrespectful to both mixed martial arts and to boxing, while the second — an interview from just four months ago — has the former boxer sharing an entirely different opinion.
"Imagine Conor McGregor and Golden Boy coming together," De La Hoya says. "But the only fight I would want to see, the one that makes the most sense, that would be the most exciting, that would be a guaranteed knockout would be [McGregor vs.] Canelo Alvarez. And they're the same weight class, so it makes all the sense in the world."
A meeting between McGregor and Mayweather is touted as likely being one of the biggest fights in combat sports history, and looks likely to break multiple box office records.
Comments
comments