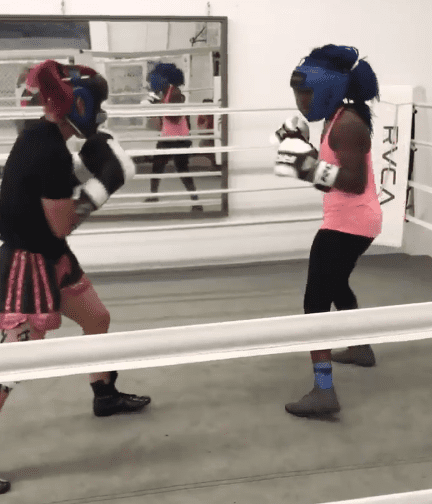 The Boxing and MMA world edges continue to blend.
With all the talk of Conor McGregor and Floyd Mayweather's upcoming bout on August 26, several other MMA personalities have thrown their hat into the proverbial ring in attempts to get other cross-sport bouts signed.
Not many have emerged with footage to show they're ready to go, though.
A video of Cris Cyborg, who faces Megan Anderson at UFC 214, sparring with two-time Olympic boxing champion Claressa Shields was recently posted to social media, and it looks like a fun scrap.
Me and @criscyborg sparring a small clip ❤️💙 pic.twitter.com/PDYwhOEtDJ

— ClaressaT-rexShields (@Claressashields) June 25, 2017
The two went back and forth for a few rounds, with Cyborg hanging in there with the more experienced boxer. Afterwards, Shields was very complimentary of Cyborg's skills, and even said there could be a future in boxing for Cyborg should she adapt her training.
"She's physically strong, physically fast, very athletic," Shields said, in a clip on Cyborg's social media. "Only thing, you just gotta work on the whole breathing thing. I think MMA and boxing is like swimming and running, especially when it comes to breathing. Cris is strong, she's fast.
"[She'd] be a monster," Shields said of Cyborg's potential transition from MMA.
UFC 214 takes place July 29, in Anaheim, California.
Comments
comments