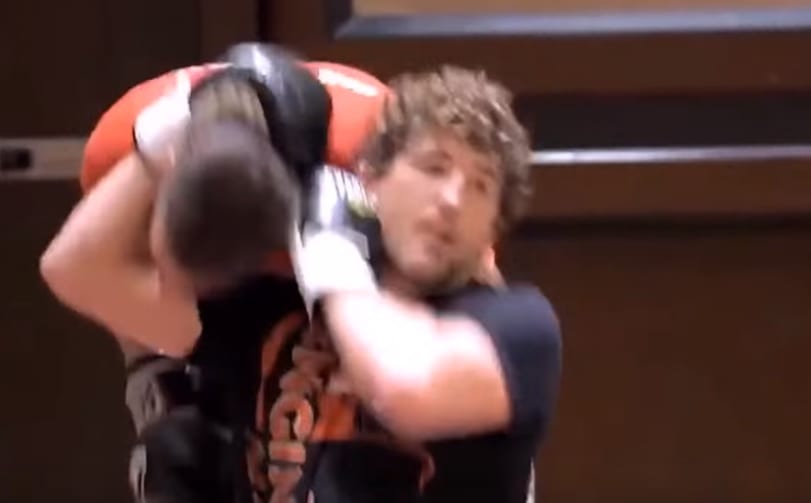 Here's one from the vault for you you.
In advance of CM Punk's UFC debut against Mickey Gall — which didn't go so well, in case you had forgotten — the former WWE superstar spent some time training with the undefeated, and now retired, Ben Askren at Roufusport in Milwaukee (where Askren is now the wrestling coach).
During one light sparring, Askren advanced forward into a clinch and, yep, unleashed Stone Cold Steve Austin's finishing move on the unsuspecting Punk. When he walked away from professional wrestling, Punk said it was because he had fallen out of love with sports entertainment but it certainly seems like he enjoyed Askren's attempt at reminding him of his old day job.
UFC president Dana White recently announced that the organisation were attempting to book another fight for Punk (real name Phil Brooks) but it is likely he won't have to worry about this particular maneuver in his opponent's arsenal on fight night.
"I like that guy. He's a good dude," White said, speaking to the Associated Press. "He wants one more. He wants to get another shot. I'm going to give it to him … I'm working on it."
Punk, who turns 40 this year, will likely have just one more shot in the big leagues and it will be interesting to see who the UFC pairs him up with. In his debut bout, Punk was easily taken down and submitted by Gall in a fight that established something of a blueprint to defeat the MMA novice. However, with a further 18 months training under his belt only the most ardent, purest MMA fan wouldn't be interested in seeing if Punk has been able to fill in the very evident holes in his game.
Check out the video below. Bah god, he's broken in half.
[H/T –
I_HATE_GOLD on Reddit
]
Comments
comments