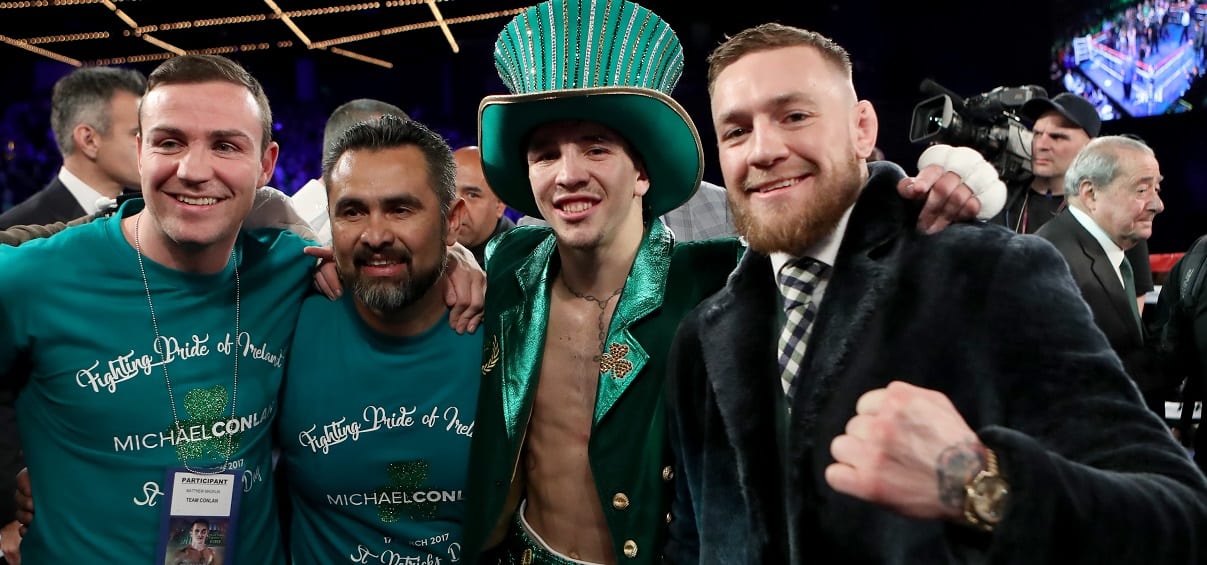 On St. Patrick's Day last year Michael Conlan, one of the most successful Irish amateur boxers in history, made his professional bow in the world famous fighting arena of Madison Square Garden. A year to the day, the Irishman will look to move to 6-0 in the pros in the next step to becoming a world champion inside the pugilistic ring.  
Having recently made the decision to switch up his training, Conlan's immediate fighting future will be overseen by British boxing trainer Adam Booth — the man who oversaw David Haye's journey to a world title. Booth counts the likes of Andy Lee and George Groves among his current stable of fighters, both of whom have enjoyed tremendous success under Booth's stewardship.
"Adam was the only coach I wanted to work with in the UK," Conlan said in an interview with Boxing News. "I don't feel there's another coach who can do for me what Adam can do for me. I thought that before I even knew him. I want to be the best and that means I need to work with the best.
"As soon as I arrived, I started to see everything I was doing wrong. He was pointing it out to me. It was just simple, little things, but he was explaining them to me and sticking with them until I understood and corrected them. That's what I want. I want to be with someone who isn't just a coach but is also a teacher and a mentor."
Conlan has made easy work of his opponents thus far in his journey through the professional ranks. Last year in Madison Square Garden, Conlan was accompanied to the ring by Conor McGregor for his third round TKO of American fighter Tim Ibarra in New York. Three more finishes, all before the fourth round, followed before a decision win against Luis Fernando Molina on the Lomachenko/Rigondeaux undercard in December.
As his competition increases in difficulty, Conlan sees the work he is putting in in the gym as elevating to an even greater standard.
"I feel like I'm learning all the time and even though we haven't been working together long I think it will be a new and improved version of me that steps into the ring on St Patrick's Day," the featherweight fighter said to RTÉ.
"I'm looking forward to starting sparring now because I'm learning little things that I want to try in the ring.
"I can't wait," Conlan says of his upcoming sixth professional bout. "It's time to see the old me – the good, skillful me – but with that viciousness I learned in America. I want the best of both worlds.
"So far in my career I don't feel like I've even shown 50% of what I'm capable of. There's so much more to come and I honestly feel comfortable now and confident I have found the guy [Booth] who is going to unlock that other 50%."
The identity of Conlan's opponent has yet to be revealed.
Comments
comments