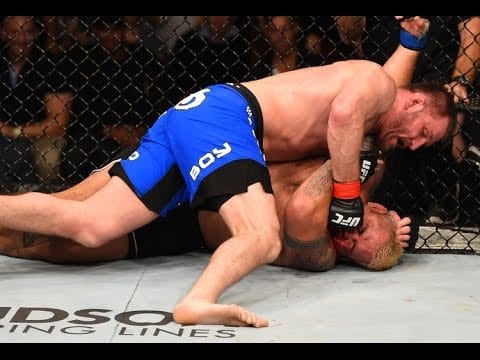 Mark Hunt certainly has a way with words, doesn't he?
Speaking to Australian media ahead of his UFC 221 contest with Curtis Blaydes in Perth, the UFC contender was asked his thoughts on recent heavyweight contender Francis Ngannou, and how Ngannou fared against champion Stipe Miocic in their UFC 220 contest.
Hunt, who suffered a terrible five round beating at the hands of Miocic back in 2015, was fairly blunt with his appraisal.
"I felt for Ngannou," Hunt said, speaking to news.com.au. "I know what it's like to be molested and raped by Stipe. Stipe just proved his mettle. He's a great champ. He's a worthy champ. It just goes to show you, you just can't come along. Stipe's been tested in the trenches for a long time now. Ngannou's a nice guy, he's just relatively new."
Of course, Miocic is now set to face off with UFC light heavyweight champion Daniel Cormier in a champion vs. champion bout this July. While Hunt understands that Miocic has gone some way to clearing out the weight class, he wouldn't mind getting an opportunity to right the wrong he suffered the first time they met.
"He's beaten everyone," Hunt said. "He's fair to say, 'Well, who haven't I beaten'. I'd still like my rematch, sure. Adelaide still burns deep with me. It sucks."
Failing that shot, Hunt is — should he get past Blaydes next Saturday — also open to meeting Ngannou in the cage. After all, he says, Ngannou's shown an interest in the past.
"He asked me to fight when I met him in Vegas," Hunt said. "That's the first thing he said to me. 'Hey, you. I fight you next'. I said, 'Sweet'. He's a really hard puncher, and my punching power isn't bad, so, if I can beat Curtis Blaydes, I would love to get down with Francis.
"Ngannou is new. That fight with Stipe was probably his first trench warfare fight. Did he get the key to win? No he didn't. But maybe the next time. He's only going to get better. He's only young."
Comments
comments