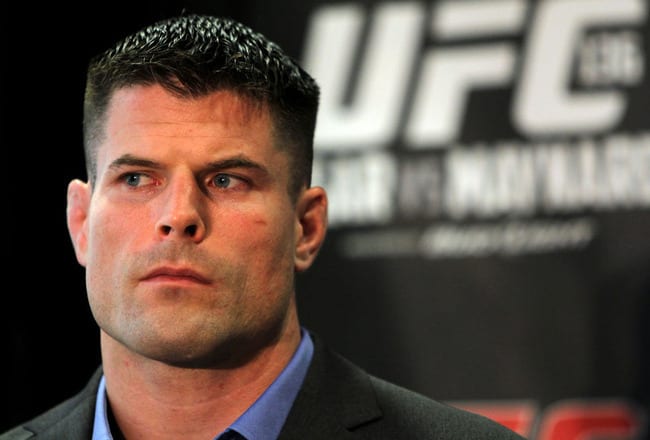 Brian Stann might not be involved in mixed martial arts anymore, but that doesn't mean the former UFC light heavyweight and middleweight's opinion holds any less water.
Stann fought inside MMA's premiere promotion from 2009 to 2013, before hanging up the gloves and becoming an analyst and commentator. For four years, his views on the sport were considered up there with the best punditry available, before he announced his complete separation from an active role in the sport last year to pursue a career in real estate.
That being said, when he offers his thoughts on the current happenings, it's worth a listen. For instance, as a middleweight who fought throughout Anderson Silva's famous run as 185-pound champion, Silva's recent failure of a banned substance test (his second) and subsequent revelation of what those substances are of interest to Stann. Combine that with the fact that Stann had been one of the most vocal proponents of stricter drug testing, and the most critical of those who used steroids, and he offers an interesting viewpoint on what we should think of Silva post-test failure.
"He's a great mixed martial artist," Stann said, speaking to MMA on SiriusXM. "He's still one of the best to ever do it. In my eyes, there was a clear steroid era of this sport, and he was the best at it during that time. For me, Georges St-Pierre's the best of all time. In my eyes, he is. I think Anderson Silva's still top five, I think if you look at the guys he's beat — he beat Vitor Belfort, he beat Nate Marquardt, he beat Chael Sonnen — he beat these guys, these guys have all popped on drug tests as well.
"And so I still view him as an elite martial artist, one of the best of all time. I personally — I wish he would have retired sooner. He needs to get out of this sport, he needs to bow out, he's not meant for this era, where this era — in my eyes — is an athlete's era of mixed martial arts. The level of athleticism has sky rocketed in this sport now, and there's a lot of athletes like the Conor McGregor's of the world who view people who cheat with a vile disregard. Because they did it the right way, and they worked very hard. It's the era where guys like Michael Bisping are world champions.
"And so, it's time for these pioneers who can't hang anymore and messed up their bodies — and look I can sympathise a little bit with the time they fought in — but their time is over."
.@BrianStann tells @MieshaTate & @RJcliffordMMA his take on Anderson Silva's legacy. "In my eyes, there was a clear steroid era of this sport and he was the best at it." pic.twitter.com/E2tce95BxL

— MMA on SiriusXM (@MMAonSiriusXM) February 2, 2018
—
Comments
comments