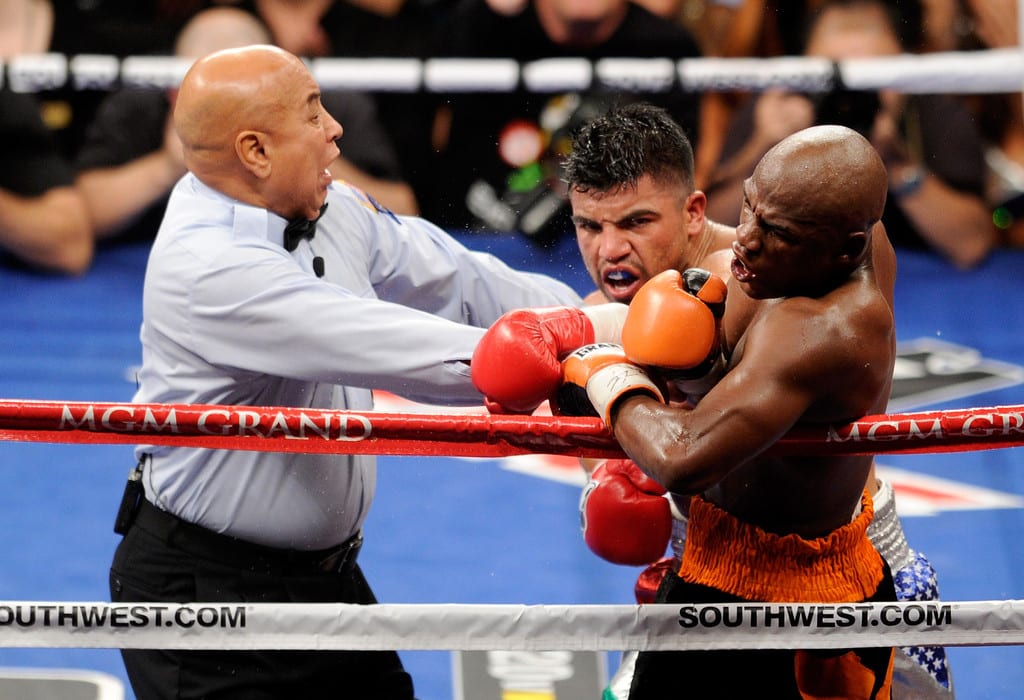 Whoever ends up being the third man in the ring for the August 26th clash between Conor McGregor and Floyd Mayweather will have to be wary of illegal shots being thrown by one of the fighters but, as former Mayweather opponent Victor Ortiz contends, they won't be coming from who you might expect.
Back in 2011, the then 29-2-2 Ortiz faced Floyd Mayweather in defense of his WBC welterweight title but the fight was abruptly over in bizarre fashion in the fourth round. Apparently holding his hands out in apology for a headbutt, Ortiz was knocked out by an opportunistic Mayweather who blasted Ortiz with a combination as his guard was down.
Ortiz has since apologised for the headbutt, but contends that the reason he resorted to the tactic was the Mayweather was continually striking him with illegal elbows throughout the brief contest.
"You can't elbow unless you are Mayweather," Ortiz said in an interview with USA Today. "I think on both parts we both had a lot of mistakes taking place. He was hitting me with his elbows. I took a lot of them. I took I believe 16 or 17. I kept telling (referee) Cortez, 'Hey Cortez, elbow, elbow.' (He just said) 'Keep fighting Ortiz, keep fighting Ortiz.'"
""(I was) trying but then it got to the point where I felt like I was seeing double out of one eye and I think that's your retina when that is happening. The other eye was starting to swell, not from the punch. He (elbowed) and got away with it. I think what I did was wrong, I headbutted. I ended up paying ugly."
The result of the bout was hugely contentious. There's little doubt that Ortiz did commit flagrant violations of the rules himself but once the bout reached its conclusion, a chorus of boos resonated around the MGM Grand in Las Vegas.
Following the bout, Mayweather explained his actions to interview Larry Merchant: "In the ring, you have to protect yourself at all times. After it happened, we touched gloves and we were back to fighting and then I threw the left hook and right hand after the break. You just gotta protect yourself at all times."
With several section of the media rhetorically asking what would happen if McGregor was to ignore the Marquess of Queensberry rules, it is worth nothing that the same questions must also be asked of his opponent.
Comments
comments