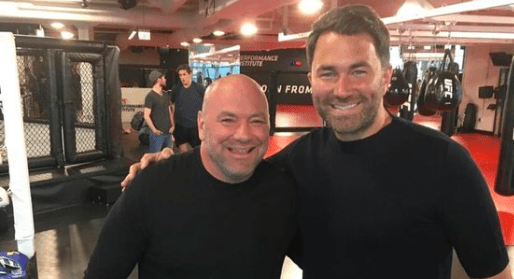 A couple of weeks ago, UFC President Dana White promised to "unveil the future of fighting" about two months later. 
White is, of course, a promoter and being prone as he is to the odd hyperbolic statement now and again it was difficult to divine exactly what he meant by it but based on language alone, it seemed clear that he wasn't just referring to another run of the mill UFC announcement.
"I told everybody yesterday, wait til you see what we're working on in Vegas right now," White said to the media at UFC 236 earlier this month.
"In the next two months, I'm going to unveil the future. Not of the UFC, of fighting. I'm going to unveil the future of fighting in the next two months. And the amount of talent that we're looking at right now, the shows that we're creating talent right now."
Uh Oh!!!!!!!! pic.twitter.com/juGzKKRg6c

— Dana White (@danawhite) April 29, 2019
Now with regard to that, your guess remains as good as ours as to what White is keeping under wraps in Las Vegas. One possibility is that of Zuffa Boxing, White's supposed boxing offshoot of which you can buy t-shirts for in the online UFC store. This theory was lent weight when White posted a photograph overnight of him with boxing promoter Eddie Hearn — who lists Anthony Joshua among his stable of fighters — taken at the UFC Performance Institute in Las Vegas.
This remains nothing but speculation we hasten to add. Another possibility is the implementation of further Performance Institutes, such as those planned in China and elsewhere, to continue to foster mixed martial arts talent across the globe. Either way we will find out in the next six months or so, per White's timetable, and let's just hope this isn't all about the creation of a new interim title or something such.
Comments
comments