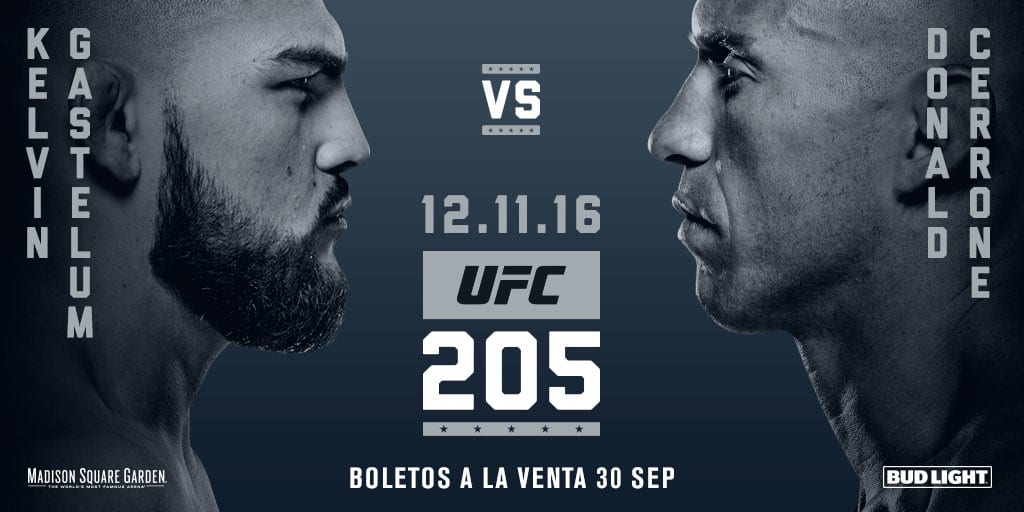 The eyes of many a mixed martial arts fan lit up when it was originally announced that Donald Cerrone would square off against former welterweight king Robbie Lawler on the main card of UFC 205.
The clash between two of the most fan-favourite fighters in the sport promised nothing but fireworks until, that is, injury concerns forced Lawler to withdraw from the card, leaving the UFC and Cerrone to scramble to fill the gap.
Enter Kelvin Gastelum. The fifth ranked welterweight fighter in the world and former winner of The Ultimate Fighter, Gastelum is one of the most promising young fighters in what has traditionally been seen as one of the UFC's marquee divisions.
"If you look at the rankings, the fight made sense", UFC president Dana White said of the Gastelum vs. Cerrone match-up. " I wanted to keep 'Cowboy' [Cerrone] on that New York card after the Robbie Lawler fight fell off. God, I wanted that fight with Lawler so bad. Such a great fight, but what are you going to do? Kelvin was the next-best choice for 'Cowboy,' behind Lawler, and it made sense in the rankings. Cerrone is a 170-pounder, 100 percent. He looks great at that weight."
With the welterweight title being contested in the co-main event at UFC 205 between champion Tyron Woodley and Stephen 'Wonderboy' Thompson, both fighters know that an impressive performance this Saturday in Madison Square Garden would propel the winner towards the summit at 170 pounds, placing them directly in line to face whoever is the champion come Sunday morning.
Cerrone has looked incredibly impressive at welterweight, despite having spent the majority of his MMA career a division below at 155 pounds. 'Cowboy' is a perfect 3-0 in his newfound home, having earned finishes of Alex Oliveira, Patrick Coté and Rick Story so far this year.
Gastelum, though, represents the biggest challenge yet that Cerrone will face at welterweight. He comes into this bout having outworked former champion Johny Hendricks to a decision victory at UFC 200 last July and another win this weekend against the in-form Cerrone on the grand stage at Madison Square Garden on the biggest fight card in history would be the most important victory of his career to date.
Both fighters are known for being tough, gritty competitors. Expect a dogfight on Saturday night where 'Cowboy' will look to unleash his vicious muay thai kicking game, while attempting to avoid the suffocating wrestling and concussive power that Gastelum has in his hands.
In a card packed with exciting fights, Donald Cerrone vs. Kelvin Gastelum is right up there with most. Expect whoever has their hand raised in New York to be crowned a new top contender at welterweight. Doing so, however, won't be easy – it must be earned.
Comments
comments