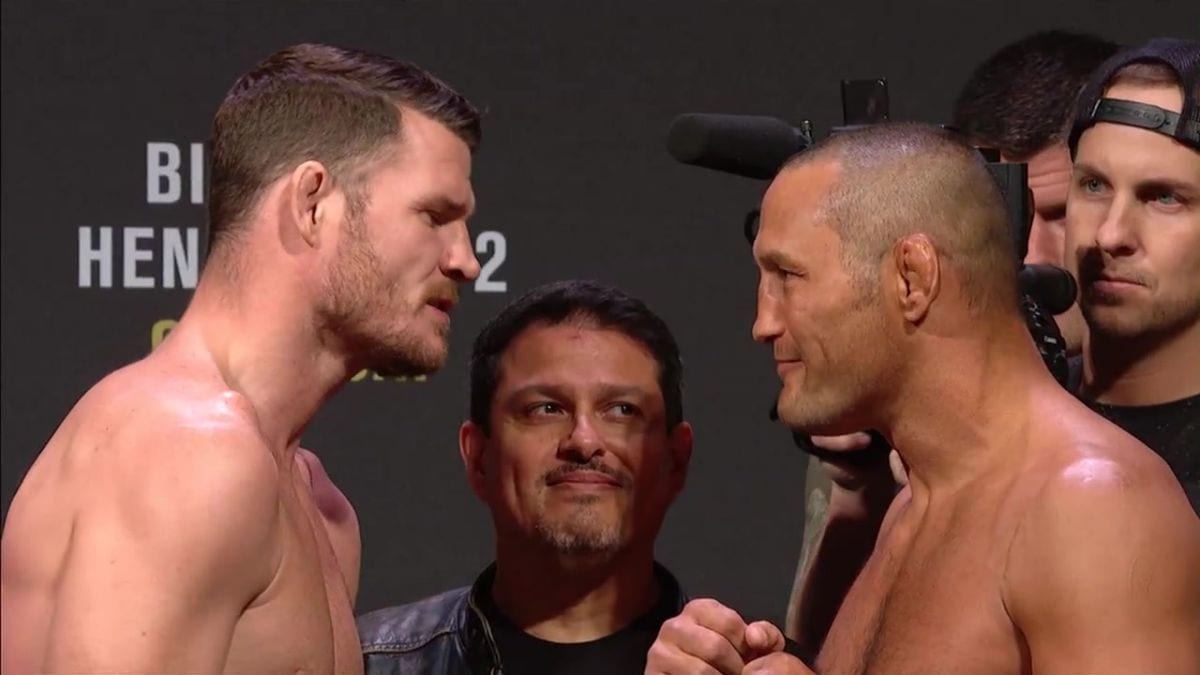 UFC 204 is upon us.
Tonight, the UFC marks its return to the UK with a middleweight title fight between long time rivals Michael Bisping and Dan Henderson. The main card commences at 3am local time, with the main event expected to occur around 5am.
Michael Bisping vs. Dan Henderson
Like it or not, it's happening.
Despite a solid amount of fan support, the UFC's decision to have Bisping's first title defense be against 46 year old Dan Henderson didn't exactly thrill their middleweight colleagues.
Yet whether it be Bisping holding the belt in front of his hometown, or Henderson taking the strap as he strolls off into retirement, the UFC has set up Saturday for a fairy tale ending, and ultimately it was a combination the UFC couldn't pass up.
The fight is a rematch of their UFC 100 bout, which took place seven years ago, and where Henderson knocked out Bisping so badly the Brit woke up in every KO compilation made. Realistically, neither man has drastically altered their skills. Henderson still wants to swing that chestnut of a right hand, and Bisping still aims to fire off combinations and moving away.
That leaves it then to come down on who has aged better physically — a contest where there's only one winner.
Henderson has long been known to possess one of MMA's most granite of granite chins — his first knockout loss came in his fortieth fight — but recently we've started to see that erode. He's been rendered unconscious in three out of his last seven appearances, and was heavily dropped in his most recent win against Lombard.
Add that in with his increasingly stiff, trundling movement, and you have a recipe for him to take shots he just can't take anymore… Although I think they said that last time.
Pick: Michael Bisping – TKO in R1.
Vitor Belfort vs. Gegard Mousasi
This feels like a fight that was decided on the weigh in scales.
Belfort, the former poster boy for TRT, is frankly a shell of his former self. In his last fight against Jacare Souza, gone was the infamous first round blitz, and in its place a Vitor timid and reserved.
While the Brazilian may try and respond to that poor performance by going for on an early onslaught here, Mousasi has enough about him to weather that and take the victory.
Pick: Mousasi – Submission in R1.
Ovince St-Preux vs. Jimi Manuwa
Returning from a Jon Jones inflicted broken arm, Ovince St-Preux has flown over to Manchester to play spoilsport to Manuwa and his countrymen. While Manuwa has big power, and has taken a significant time away from the cage to improve his skills, St-Preux showed that even in defeat to an underwhelming Jones, he could at least survive with the division's elite — something Manuwa simply hasn't been able to do.
Look for Manuwa to come out aggressively, driven on by the British crowd, but to be overwhelmed by the superior technique and strength of OSP fairly easily.
Pick: Ovince St-Preux, KO in R2.
Stefan Struve vs. Daniel Omielańczuk
It's quite rare for someone to be seventeen fights into their UFC career and still be considered as a raw talent or a prospect. And yet, that's where Struve is.
Coming off of an exceptionally important victory over Antonio "Bigfoot" Silva, in which the Dutchman seemed to have made a statement and turned a corner, Struve really could use another victory to start building his stock here.
In Polish fighter Daniel Omielańczuk, Struve finds an interesting — but doable — challenge.
With Struve's chin considered the biggest weakness in his game, it'll be reassuring for him to note that Omielańczuk hasn't shown a consistent ability to put opponents to sleep (3 wins of 19 have come via KO). Should Struve maintain his discipline, he should remain on course and capture his successive victory since 2012.
Pick: Struve – Decision
Mirsad Bektic vs. Russell Doane
Bektic very nearly didn't make it onto this card.
Scheduled against two opponents who both went on to drop out with injury, Russell Doane saved the day by stepping in on just a few days notice. Which, while may have been an admirable decision, is a risky move for a man on a three fight losing streak.
Bektic on the other hand has never been defeated in MMA, and currently owns a 10-0 record. He's 25, hungry and returning from an injury that's kept him on the shelf. Doane may have more experience, but he's lacking in preparation and momentum.
Pick: Mirsad Bektic, TKO in R2.
Enjoy the fights, and stay tuned to TheMacLife.com for UFC 204 coverage as it unfolds.
Comments
comments