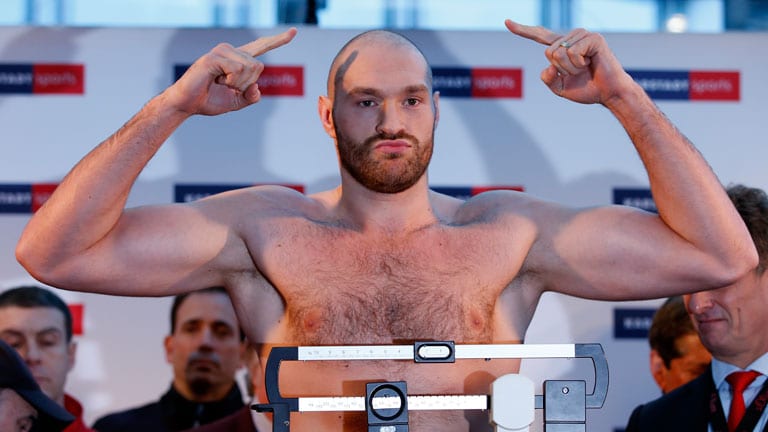 Boxing heavyweight Tyson Fury says he and Deontay Wilder have nearly agreed terms to fight each other next.
Over the last week, reports have emerged that Anthony Joshua's British rival has taken advantage of the prolonged negotiations between Joshua and Wilder's camps and stepped in to meet the American in the near future.
And while Fury isn't shy of making claims without evidence, Wilder himself has confirmed there are on-going talks, which according to Fury are nearly finished.
"It's 99% done as far as I'm concerned. There's no arguments over money, splits, promoters, nothing," Fury said, speaking with Sky Sports. "That is how real men do it. We do the business. Straight to it, no messing around, no hiding from the big fights. If you are good enough, you are good enough. If you're not, forget about it. Go home.
"I will outbox him and then I'll stop him. He's never fought anyone like me. Ever. But old Tyson Fury, who went to Germany to dethrone the legendary Klitschko, will go to Las Vegas and dethrone the WBC champion, Deontay Wilder. They're the easiest people I've ever had to deal with. Very straight-forward. Everything I've said, they've agreed to.
"I'm a very fair person. When you're dealing with someone like that it's easier to do business. I've asked for a shower in my changing room, I've asked for black-and-gold gloves and I've asked for the people to be fair who are judging it. Other than that, leave it to me and I'll handle the rest of it."
And of course, a little jab for Joshua and his promoter.
"Eddie Hearn is a muppet and so is his little puppet Anthony Joshua, who is afraid to fight people."
Comments
comments