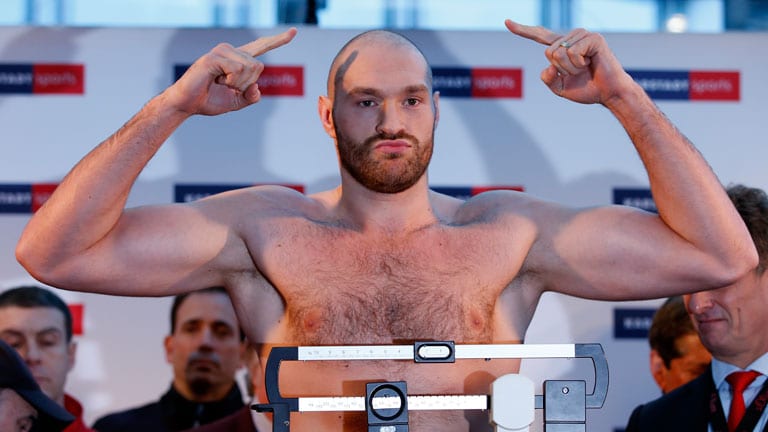 Tyson Fury has, not for the first time, criticised British rival Anthony Joshua for getting a fight with Deontay Wilder signed.
Joshua-Wilder is currently one of the biggest fights available in boxing, but despite prolonged negotiations both men's teams struggled to come to a deal, and now Joshua will instead meet Alexander Povetkin in his next outing.
That, Fury says, is on Joshua.
"I think its such a sad time for heavyweight boxing," Fury said on his social media. "Because you got the so called super champion and golden boy Anthony Joshua, and he is avoiding Deontay Wilder, and will not fight him at any costs. If you're not going to fight someone for 40 million you're not going to fight them for anything. It's a disgrace, and he's a disgrace to boxing.
Fury meets two time world title challenger Francesco Pianeta on August 18 as a part of his return to boxing. His last outing was against Sefer Seferi, and wasn't well received by the boxing community after Seferi was deemed a far weaker opponent than Fury should be facing.
That being said, Fury has continued to drop weight in training, and appeared to be hinting at an interest in meeting Wilder himself in the future.
"I think it needs somebody good enough to step up and and take on the challenges and not be afraid," he said. "Not be afraid to take risks and go to people's backyards and do it. Can you imagine if I went to America and beat Deontay Wilder in America after beating [Wladimir] Klitschko in Germany. That would be sensational. It might happen. Wait for the news."
Just imagine if I went to America & beat @BronzeBomber or at least had the nuts 🥜 to try! Unlike some pussys in this country…………. pic.twitter.com/SIO2WrXWjm

— DON TYSON FURY (@Tyson_Fury) July 23, 2018
–
Comments
comments