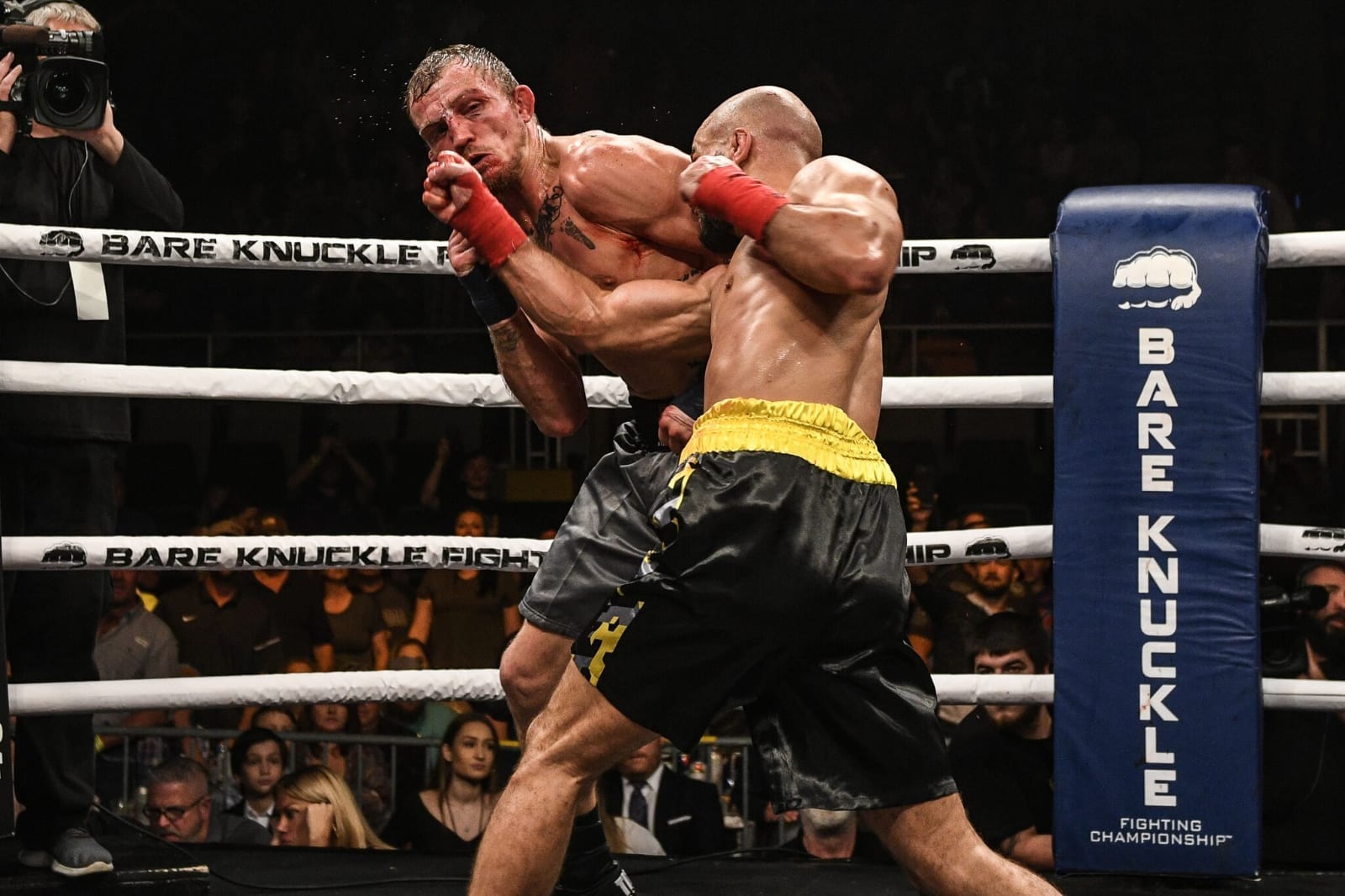 Over the past year, there has been a sudden rise in popularity for one of humanity's oldest sports, bare knuckle boxing — no doubt in large part to promotions such as Bare Knuckle FC playing host to big fights like this Saturday's Artem Lobov vs. Paulie Malignaggi.
With that contest rapidly approaching, it got us thinking as to who else is out there in the combat sport marketplace that BKFC could potentially bring on board to continue rising the sport of old school pugilism. That premise in mind, we put together a top five list of MMA names we'd like to see step through the ropes and take off the gloves.
Before we begin, it's worth noting the criteria used here. We went for names who Bare Knuckle FC or similar promotions could, on at least some level, realistically sign at this point in time. That means we're dealing with fighters who have recently walked away from promotions and are free agents, or even some retired guys who could possibly be interested in a comeback for the right pay.
So without further ado…
5. Butterbean
Admittedly, this one is a bit random. Butterbean, a former boxer and mixed martial artist, hasn't fought since 2013, meaning he's had the longest lay-off out of our list. That being said, doesn't it just sound right? In his heyday, Butterbean (real name Eric Esch) was a spectacle in his own right, being a man of a larger disposition, and his great knockouts earned him plenty of credit inside the ropes as well.
For the moment at least, Bare Knuckle is about bringing the weird and wonderful to viewers, and getting those shorts with the Stars and Stripes through the ropes for a skin on skin showdown would do just that.
4. Vitor Belfort
Vitor Belfort might be signed with ONE Championship, but he's already shown a willingness to think outside the box when it comes to potential match-ups in the twilight of his career, calling for a boxing match with legend Roy Jones Jr.
If that fight doesn't happen, (which let's face it, it probably won't), then perhaps the 'Phenom' can still try his hand at fighting without his notoriously vicious spinning kicks but without putting on any more than wrist support. Belfort in bare knuckle would feel like a throwback to an bygone era from when combat sports was raw — exactly what bare knuckle is all about.
3. Wanderlei Silva
His name is 'The Axe Murderer'. He was basically made for fighting covered in blood.
After an extended period of time out of action through suspension, Silva fought twice over the past two years, most recently meeting old rival Quinton 'Rampage' Jackson last September. While he lost that fight, Silva still made things competitive, and still looked more than happy to windmill in with his trademark fury.
In his prime, Silva was one of the most violent men on the planet. Seems perfect to let him revisit where he started — fighting without gloves.
2. Anthony 'Rumble' Johnson
Realistically, Rumble might be the most interesting one on this list. He's already aligned with Bare Knuckle FC, having signed on as a brand ambassador earlier this year. And, judging by the reaction to that announcement (before people realised it wasn't as a competitor), there is plenty of appetite to see one of the hardest hitting punchers in MMA history fight without gloves.
It could be argued that Johnson would still command a wage in the UFC that the likes of BKFC couldn't match — but since he's already on the payroll, we're considering him a long shot option.
1. Mark Hunt
Come on.
Comments
comments