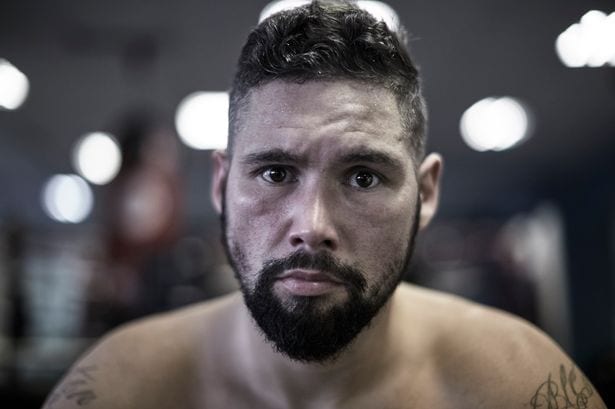 Now that the Conor McGregor and Floyd Mayweather boxing match has reached its hugely lucrative conclusion, the media and fan interest which accompanied last weekend's bout in Las Vegas has seemingly left the door ajar for future cross-code events. 
Several mixed martial artists, notably current UFC heavyweight kingpin Stipe Miocic, have expressed their interest in competing in another element of the combat sports spectrum in recent weeks. It is a rarity, however, for a top boxer to be open to competing inside of a cage. Former WBC cruiserweight champion Tony Bellew is one of those few fighters open to the idea.
Bellew, who was last seen in the ring in March where he defeated David Haye by 11th round TKO, has been verbally sparring with UFC middleweight champion Michael Bisping via social media for months and says that a fight between the pair wouldn't last long, be it in the cage or the squared circle.
Speaking to John Balfe of TheMacLife.com en route to Las Vegas last weekend Bellew, who was flanked by promoter Eddie Hearn, issued a stark prediction.
"If Michael Bisping gets in a boxing ring with me, I would sleep him in about four minutes," he said.
Hearn interjected, enquiring as to why it would take him so long.
"Because I'd want to make it a bit of a show," Bellew added. "If I got him in a cage, I'd probably choke him in a bout two and a half [minutes]. He would try and take me down but my takedown defence is absolutely fantastic. At the point I would reverse it around and I would choke him out."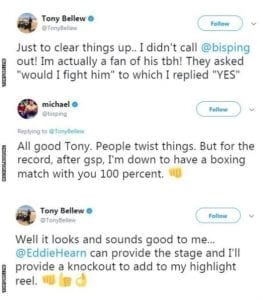 Despite never competing in a mixed martial arts contest, Bellew is a long-time viewer of the sport and listed the likes of Mark Coleman and Tito Ortiz as fighters he appreciated over the years.
Hearn added: "He texted me the other night about Bisping and he said, 'if it's boxing it's over'. I replied with a funny face and he said, 'you don't understand about my wrestling.' He fancies his chances in a cage."
Bellew tipped the scales at 213-pounds for his fight with Haye earlier this year, his first in the heavyweight division, but says he would have no problem meeting Bisping at the middleweight limit in mixed martial arts.
"I would love to go in a cage. I could do 185-pounds. Don't get me wrong, I'd have to cut off one of my ass cheeks, but I've done it before and I'll do it again."
Bellew has acquired a 29-2-1 record in the boxing ring, earning a variety of titles throughout his career. Bisping (30-7) is expected to defend his UFC title against Georges St-Pierre in the main event of UFC 217 in Madison Square Garden in November.
Comments
comments