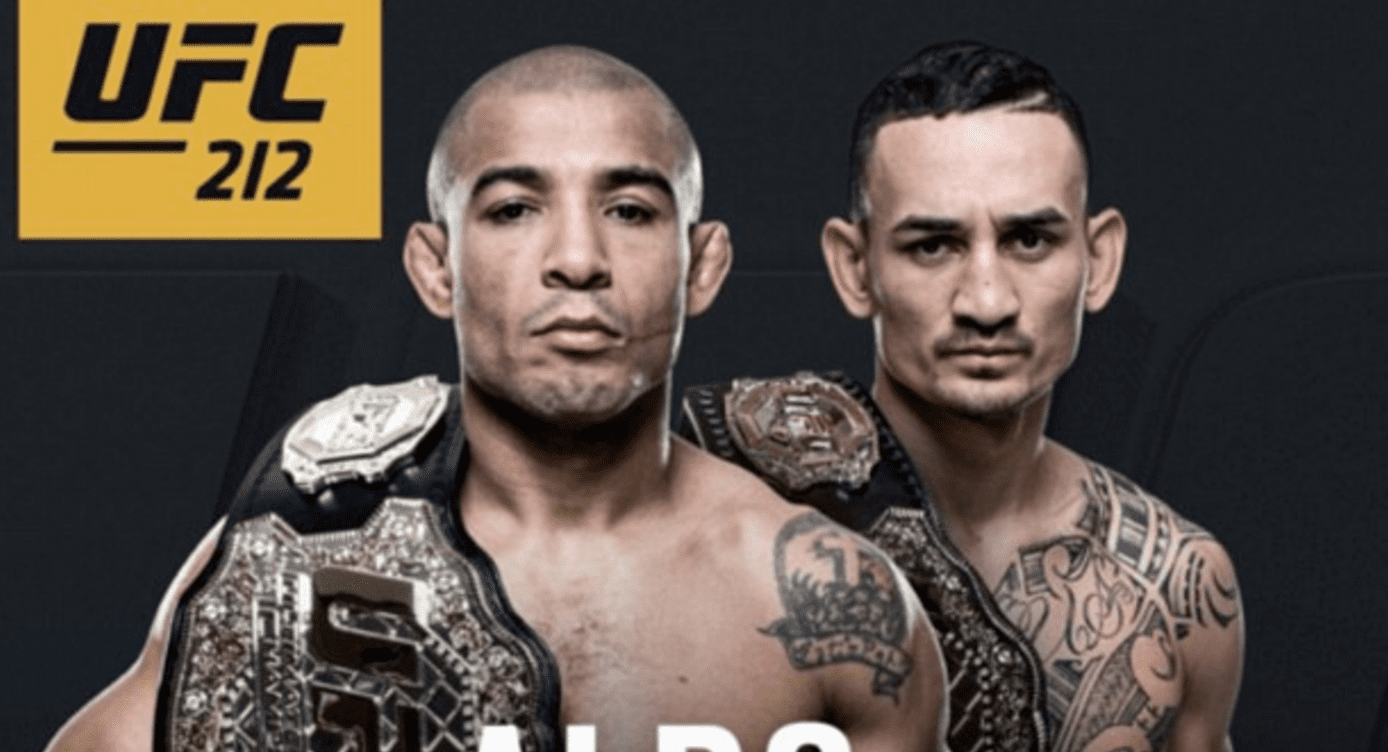 Welcome to the "In Case You Missed It" weekly round-up. Here, every Monday, we'll be taking a look at the top stories of mixed martial arts that emerged in the last week.
Over the last seven days, we've had (as usual) plenty to discuss in the world of MMA. There's been a couple of big fight announcements (both in UFC and Bellator), Dana White put his own spin on Tyron Woodley's race relation discussion and UFC 208 started off the UFC's 2017 pay-per-view calender with a… well. Let's take a look in case you missed it.
Jose Aldo vs. Max Holloway announced for UFC 212
Jose Aldo and Max Holloway have been circling each other for a while now. Ever since the 25-year old Holloway started hitting the latter stages of his ten fight win streak, it started not becoming a story of 'if' but 'when'.
And now, we have a date. Last week, Jose Aldo vs. Max Holloway was announced for UFC 212, which takes place in Rio De Janeiro on June 3.
While Aldo seems to have spent the last year treating Holloway with a seeming mild indifference, the young Hawaiian has made it emphatically clear he wants nothing more than to get locked in a cage with a man who went a decade undefeated, going as far as to attempt to get a social media campaign off the ground.
So yes, say what you want about the validity of the belts on either mans shoulder, and just how impressed we should all be by a unification of two titles that, while impressive, lose a bit of shine when there is an Irishman holding a slightly weightier equivalent — this is still one hell of a fight.
Rory MacDonald scheduled for Bellator debut
In an another fight announcement that's taken a while to get here, Rory MacDonald is finally set to make his Bellator debut. He'll be in the main event of Bellator 179 which will take place on May 19th inside London's SSE Arena against Paul Daley.
While some were hoping for an all English clash between Daley and Michael 'Venom' Page, there is a fair amount of intrigue to see what MacDonald looks like these days. Come fight night, he'll nearly have been out of the cage for a full year, after taking time off to heal the lasting injuries of his 2015 war with Robbie Lawler.
At 27-years old, the welterweight has plenty of time ahead of him in the sport, and has even mentioned we could see him back in the UFC one day. To ensure that remains a reality, however, he'll need to do a little better than other UFC exports such as Benson Henderson and Chael Sonnen.
Dana White labels Tyron Woodley a 'drama queen'
"The thing is with Tyron, first of all; he's a smart guy," White said, speaking on ESPN. "He's a good looking kid. He's explosive. He's got knockout power; but he's a bit of a drama queen. … When a fight is made — and Conor McGregor is a perfect example — Conor McGregor has that fight anybody, anywhere attitude, but doesn't just have the attitude, he lives it. I've stood in front of him [with] ten days notice and he doesn't care. He doesn't care.
If Tyron Woodley had that attitude, Tyron Woodley would be a massive star. Massive star. But he does these things where he literally [go] on Instagram when he knows who he's fighting next and say 'I'm not fighting him, I don't wanna fight him, I think I wanna fight this guy or that guy'. And that's not what people want to hear.
"People don't want to hear that, and then what he does then, is he'll start fighting an arguing with people on social media. Then he wonders why when he shows up at a press conference the whole crowds booing him. They're not booing him because he's black, there's tonnes of black guys fighting in the UFC. It's Tyron. If you look at the guy, he's the perfect specimen, he's the perfect athlete you can get behind and promote — until he shoots himself in the foot by doing that type of stuff."
All in all, an odd situation. Especially considering the two were sitting next to each other at the Super Bowl a few days prior to White's comments.
UFC 208 happened. It was kind of weird.
Well, UFC's first pay-per-view of 2017 is in the books and we're all here on Monday feeling kind of… eh. The card was decision after decision (save Jacare showing up to take another arm), and then when it got to the co-main and main events, things got slightly strange.
In the co-main event, Anderson Silva walked away with his first official victory in over four years, but did so without showing the old magic so many longed to see.
Thank YOU, @SpiderAnderson! #UFC208 pic.twitter.com/PILN2gYoRr

— UFC (@ufc) February 12, 2017
Instead, he got the nod from the judges, and while there was an argument to be made he may have won the first two rounds, the announcement of a 30-27 card sent most observers to disapproval. While the good will Silva has amounted over the years somewhat kept the real outrage at bay, in the main event there was no such quarter.
Germaine de Randamie defeated Holly Holm to become the first ever UFC woman's featherweight champion, and delivered what was supposed to be her post-fight celebratory speech to the sound of boos and curses.
de Randamie drew ire after she hit Holm with illegal blows not once, but twice after the bell at the end of rounds two and three. While there's an argument that the first occasion could have garnered the warning it received, for the referee to ignore the second fault without taking a point from the 'iron lady' felt egregious.
All in all, not the debut in Brooklyn that the UFC called for. Hell, as Dana White said himself, the best part of the night was his plane ride home.
Comments
comments