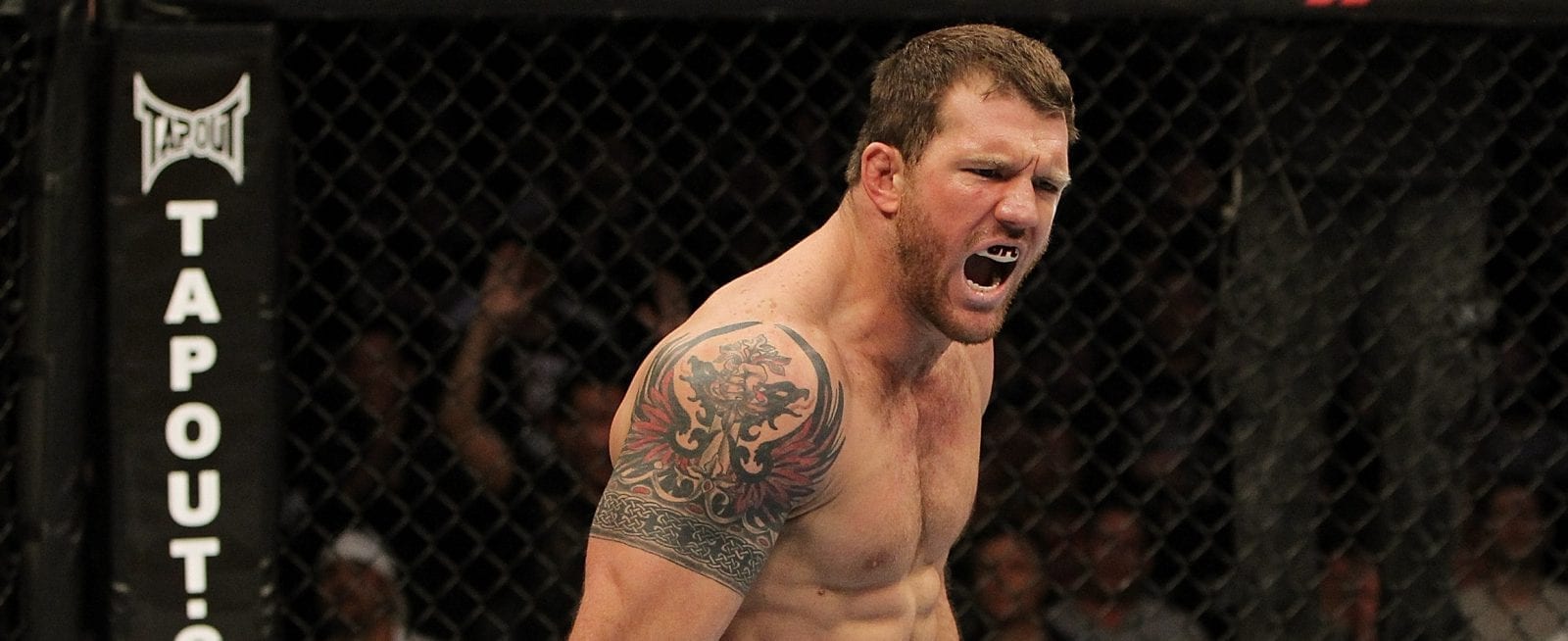 It is very likely that barring a last minute breakdown in talks Ryan Bader will become the latest high profile defector from the UFC to Bellator.
Bader, a former Ultimate Fighter winner, will enter Scott Coker's promotion on the back of an 7-1 run in his last eight UFC bouts — one of which is over current Bellator 205-pound champion Phil Davis. While a run like that would have placed many fighters in the title picture, Bader was continually ignored by UFC matchmakers, who offered the top light heavyweight fights to a never-ending merry go round of Jon Jones, Daniel Cormier, Anthony Johnson and Alexander Gustafsson.
Bader feels that he has earned his shot at the gold and this, coupled with disappointment with the Reebok apparel agreement that all UFC fighters are subject to, seems to have led to his exit from the organisation. But more than money, Ryan Bader explained to Submission Radio (and reported by Five Ounces of Pain) that it is his ambition, rather than his bank account, which is behind his upcoming change of employers.
"Yeah, for me it wasn't just about are you gonna pay me more money?", Bader said. "It was more involved than that. I think I'm at the best point, physically and mentally in my career. I'm the best fighter I've ever been and whatever organization I was going into, I was going into to win the belt and have that mentality," he said. "I wasn't a guy coming over to say, okay, I'm going over to Bellator cause I lost a bunch of fights in the UFC and I'm gonna go over here and try to fight out a couple of fights at the end of my career. That's not even the case. I'm going over there to win that belt. I feel like I'm the best fighter I've ever been at any point in my career right now and just getting started. And so for me it was a ton about that plan. You know, there was times in the UFC where I felt I had some missed opportunities – yeah they were my fault sometimes with certain fights here and there, but there were times when I definitely earned that opportunity and never knew where we stood, you know, that maybe if I beat this guy I get a title shot or this and that.
"So for me, a big part of coming into these negotiations was saying, alright, say we're talking to Bellator, what's your plan for us, what's gonna happen? And they had the right things to say and laid that plan out for me and had that ready. So I was excited to hear that for sure."
Bader will join the likes of Rory MacDonald and Chael Sonnen, as well as champion Phil Davis, as recent signees to Bellator. The organisation is also currently linked to UFC welterweight Lorenz Larkin (who would make for a great opponent for Michael 'Venom' Page incidentally). Rick Story is another out of contract with the UFC who could well make the switch.
Another plus point for Bader is that he will once again be able to source his own sponsorships now that he won't be held accountable to the Reebook deal which seemingly grows more controversial by the month. Bader says that prior to the Reebok contract being in place he was making up to $80,000 on sponsorship alone and just a fraction of that since.
"And one thing too which is huge for me is being able to have our own sponsorships. In the UFC before the sponsorship with Reebok, the least I've ever made was $35,000 – and I made up to $80,000 a fight. And so that's a huge amount per fight to be cut. I mean, yes, we do get paid on tenure and I was one of the highest tenure guys, and we all know how that works with Reebok, but it's a huge thing to be able to represent your sponsors again," he said. "And I have sponsors that have stuck with me through that whole process of not being allowed in the cage and all that, so it's a great opportunity to get them back out there and kind of repay them when they stuck by and they've always been a part of your team."
Comments
comments