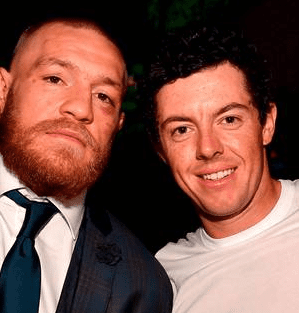 As he attempts to halt Jordan Spieth's Grand Slam efforts, Rory McIlroy is looking towards Conor McGregor's career and self-belief as motivation.
Spieth will complete golf's Grand Slam if he wins the PGA Championship next month, with could make him the sixth ever player to win all four of the sport's modern majors. As a fierce competitor, McIlroy finds himself prevent his opponent from doing so, so as he has his own opportunity to get into the record books first.
For inspiration, the Northern Irishman says, he looks to UFC lightweight champion Conor McGregor, citing the Dubliner's famous confidence.
"To be successful you have to have defiance," McIlroy said to The Independent. "Look at Conor McGregor – and I'm a big fan. People see this trash-talking whatever but his mentality and his belief in himself is just unbelievable.
"If you believe a hundred percent in what you're doing, if you have that conviction, you can do anything … Am I motivated by ­getting there first? I really am. I do not want Jordan getting that Grand Slam before I do."
McGregor's confidence and self-assurance have long been pointed at as traits which made him a success. Even now, as he prepares for his boxing match against Floyd Mayweather — one of boxing's best — plenty point to McGregor's talismanic belief in himself as a reason for why he'll find success.
Comments
comments