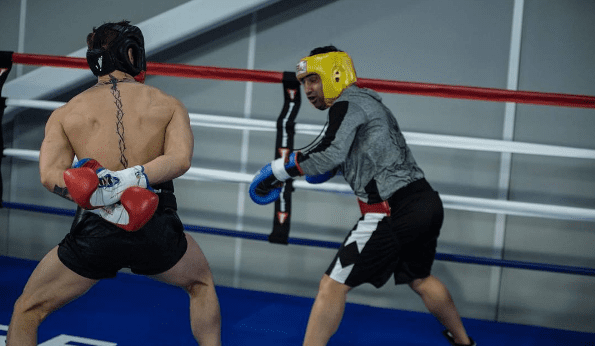 Conor McGregor and Paulie Malignaggi's sparring sessions are something of combat sports folklore at this point. 
In the lead up to McGregor's boxing match with Floyd Mayweather, Malignaggi was brought in as a sparring partner to prepare McGregor for a boxing contest. But after Malignaggi went public with his opinions on the sessions, McGregor shot back with unfavourable pictures of Malignaggi, causing a rift in the camp.
After their second sparring day, Malignaggi abruptly left the team, and went on a rampage through the media about what he felt was unfair treatment.
Since then, the two have been linked as a potential future match up, particularly if McGregor wanted to continue his foray into boxing. And according to the only other man who stepped through the ropes with the two to oversee proceedings, Hall of Fame referee Joe Cortez, a third affair he'd love to see.
"I would really push for that fight to happen because I feel that a lot of fans would like to see what really happened in that sparring session," Cortez said, speaking with Helen Yee. "It got a lot of interest. Because people wanted to know what was going on with Paulie and McGregor in that sparring session. I can tell you that I was there for twelve rounds with them and there was a lot going on.
"A lot of boxing fans and MMA fans want to know and I can tell you from being there that the fight should happen. It was very competitive. That is what I am saying. I know for a fact that it would make a good fight. It would be a better fight than McGregor vs. Mayweather!" They should put Malignaggi and McGregor together.
"I think that would be a great fight and that the fans would buy that. Because it would be interesting."
Whether or not such a meeting will take place seems more uncertain than ever. In a recent question and answer session, McGregor threw out the idea that Malignaggi could come to the UFC and meet him in a contest inside the Octagon — something Malignaggi was quick to kibosh.
Comments
comments