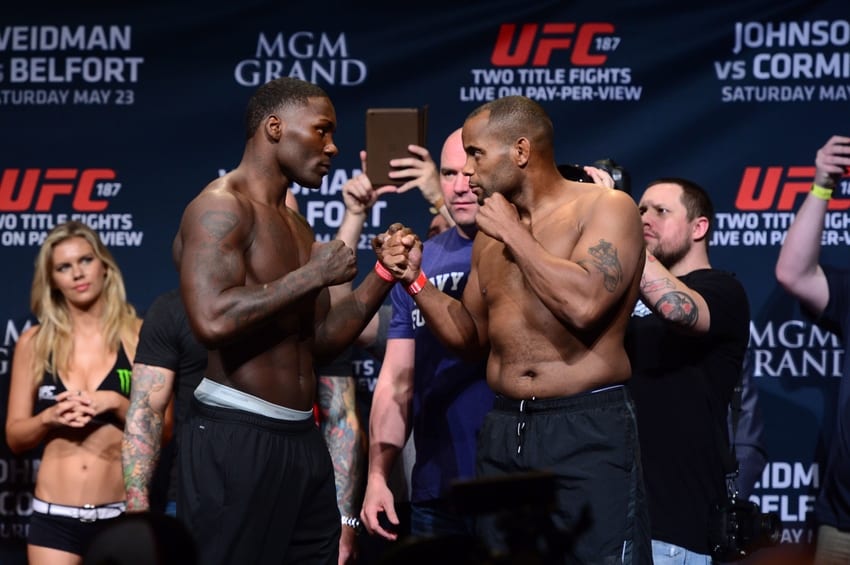 With news that Anthony 'Rumble' Johnson might be nearing a return to the UFC, it's fair to say fans are excited by the potential of Johnson's smashing style coming back. Daniel Cormier is not one of those fans.
Speaking on his new podcast Talk & Talker, the UFC light heavyweight champion voiced his how unimpressed he was with Johnson's decision to return, just a few months after he left the sport at UFC 210.
"I feel like if he was going to retire maybe he should have stayed retired a little bit longer," Cormier said. "Because when you do that, you come back this quick, it just kind of feels like 'oh you were mad because you lost, so you just quit'. Right? It's not even a six month retirement. So it feels kind of like you were mad because you lost, and you kind of just quit.
"That's not the way things are supposed to be, you know?"
In fact, Cormier — who shared a decent relationship with Johnson in the lead up to their first and second fights — revealed that he had since changed his opinion of Johnson, citing a backstage interaction between Johnson and longtime Cormier rival Jon Jones as the reason.
"Rumble Johnson and I have always been respectful with each other," Cormier said. "But something happened at UFC 214 that has forever made me change the way I'm going to interact with Anthony Johnson.
"So I walk into the back of the weigh-ins for UFC 214, and there's Rumble. And I go up to Rumble and he says 'what's up DC? You look good.' Give him a hug, and I say 'hey man, I hope you're enjoying your retirement. You seem happy. I wish you nothing but continued success', and I go about my business — as much as you'd expect two guys who have competed and ave respect for each other would interact.
"Then in walks Jon jones, and I expect him to — a guy he was supposed to fight, and may at some point still fight — give him the same type of conversation and kind of keep it moving as a man. But Jon walks in, they give each other the shake and the hug, and they talk a little bit. And the conversation seems like Anthony is almost giving him advice … like pre-fight stuff."
According to Cormier, that was enough of a red flag for him to just keep an eye on the two as backstage proceedings continued. Sure enough, when Jones stepped into the Octagon to re-acquaint himself with the canvas, Cormier noticed the two interacting once again.
"I guess Jon's putting on his shoes or something, and then Rumble walks up to him again," Cormier detailed "But now they're hugging. Legitimately hugging! Rumble's leaning over while Jon's tying his shoes, and Rumble's leaning over and giving him advice.
"What the fuck kind of advice are you giving him? Fucking what the fuck? Why are you so friendly? This is a guy that at some point you may have to fight. You're his friend now? Why the fuck are you his friend? Are you just hoping that he wins because I beat you? What the fuck are you doing?
"Rumble and I have no more relationship. What the fuck are you so friendly with a guy in your weight class for? Fuck that. The competitor in you shouldn't allow you to be that nice to that guy.
"In my mind, that dude is fucking soft."
Comments
comments