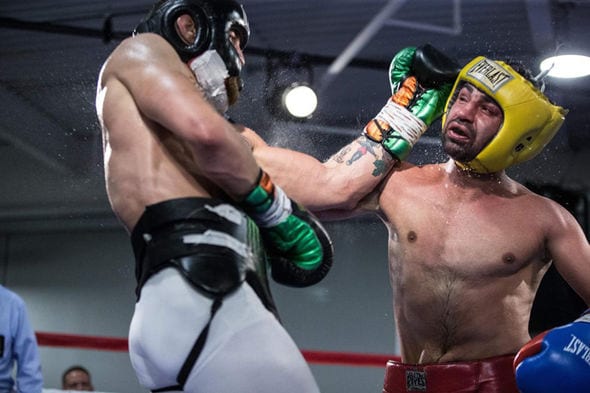 While the odds may have been slim in the first place, any chance of Paulie Malignaggi stepping into the UFC Octagon to face Conor McGregor have been put to bed by the man himself.
Malignaggi, who has been involved in a (mostly one-sided) feud with McGregor since things went sour during preparations ahead of McGregor's Mayweather contest, was responding to comments made by McGregor last week.
Speaking at an "Evening with Conor McGregor" event in Glasgow, McGregor had mentioned Malignaggi as a potential next opponent — particularly if the boxer decided to head to the UFC and challenge the Irishman there.
"I'm sitting on a loss in my mind, so I'm just seeing what options are there," McGregor said. "An option; there's an interim belt on the line right now. That's an option. Of course the Nate Diaz trilogy fight is there. Maybe one of these boxing guys… maybe Malignaggi would come over and do an MMA bout… or Floyd, maybe I could entice Floyd back."
According to Malignaggi, however, he will only accept a boxing contest with the UFC lightweight champion, claiming the Irishman needs to prove he can handle Malignaggi in the ring — not in the cage.
"You talked all this shit about how you handled it in the cage, now not only are you not releasing the video, but now you want to not box either?" Malignaggi said, speaking with ESNEWS. "Nah, he doesn't want it that way. You've got to be a man and prove yourself. … No, we're not going in a cage because that's not where you 'handled me.' You 'handled me' in the ring, right? So now go and prove it."
Ever since he left McGregor's camp, Malignaggi has engaged in a public slagging match against the UFC star. The two had sparred together on two separate occasions during the camp, but after Malignaggi went public with his opinions on the meetings, McGregor responded by releasing unflattering photographs of the boxer.
Combine that with sparring footage being released by UFC president Dana White that clearly showed McGregor getting the better of Malignaggi, and it's no wonder things have remained sour.
—
Comments
comments