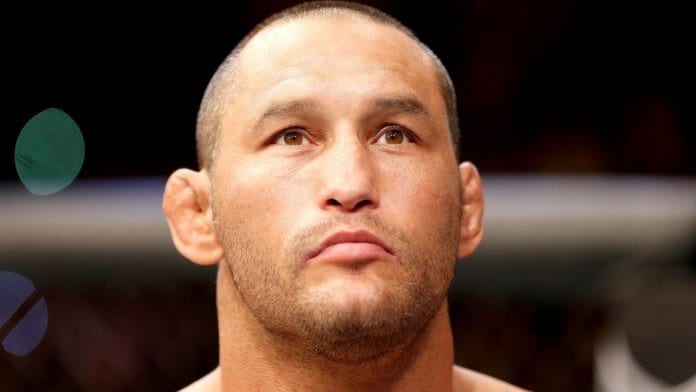 Dan Henderson's walk off into the sunset didn't go exactly as he wanted.
While leaving on one of the best performances he'd offered in recent years, dropping the current middleweight champion Michael Bisping twice in their five round fight, Henderson didn't get the tip from the judges. It's not a decision that's settled well with him.
Believing he won the first, second and fifth, Henderson recently opened up about the loss, and how frustrated he felt at being labeled the loser.
"[Bisping] just wasn't doing anything to me," Henderson posted on champions.co. "He was throwing punches that weren't really landing or were just barely touching me. Most of the punches I was throwing were meant to hurt him, and obviously, they did. There was a big difference in our significant strikes. I think the definition of that needs to be spelled out better, because he didn't throw that many significant strikes.
"I don't know what type of fight anyone's ever witnessed or been in, whether it be in a school yard, a professional arena or in a bar, where if one opponent looks like Mike did, if he looks like a guy that got his ass kicked…he probably did get his ass kicked. He'd probably be called by everyone the loser of the fight."
The fight with Bisping was Henderson's retirement fight — something well known even before the fight. And it would 100 percent remain the case… if it wasn't for the nature of the loss. With a feeling of injustice burning Henderson hinted that, if the opportunity arose, he could make one last walk to the cage.
"If this fight had happened last year, and I hadn't decided to make it my retirement fight, the fans would have demanded a trilogy," Henderson wrote. "Hell, I'm pretty pissed off right now, and for the right money, I'm pretty sure I could be talked into the rubber match, not that I think he would accept another invitation to get beat up again.
"At the same time, I'm content with what I've done and in knowing, if only in my heart, that I won that fight."
Comments
comments