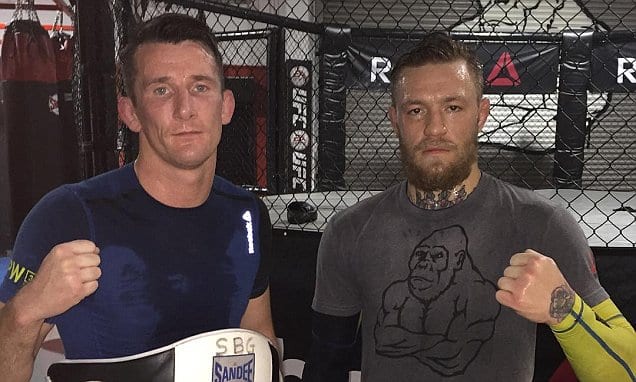 Conor McGregor is doing remarkably well in training as his August 26 date with Floyd Mayweather closes in.
While many have raised skepticism at the idea of McGregor being able to move from mixed martial arts to boxing with any success, his striking coach Owen Roddy says that should anyone see the sparring sessions in the gym, they'd change their opinion.
"Conor is killing it in sparring. He's not getting touched, you know what I mean?" Roddy said, speaking with ESPN. "He can do as many rounds as we want because he's doing so well. One thing I've noticed in camp is that week after week, he becomes twice the fighter he was. I've said this before, talking about MMA, that every fight, the 'new' Conor would smash the 'old; Conor. Well, that's happening every week this camp.
"Knowing what he's doing, and how much he'll improve in the next four weeks, I'm excited for people to see it."
Currently, McGregor is training with range of partners, including former boxing champion Paulie Malignaggi (from whom he's earned respect with his performances). According to Roddy, people are focusing too much on the physical skills in boxing and MMA, and ignoring the fight game — which as the old adage goes, is 90% mental.
"I honestly believe no one has a better brain in combat sports than Conor," Roddy said. "I've watched him for 16 years. I've watched every single person that's come into the gym and it doesn't matter what level they are — straight up boxers, high-level amateurs, Thai boxers, world-class MMA fighters.. I've watched Conor read them and pick them apart time after time. You can't coach that. I've never seen anybody else able to do it.
"There's no doubt to me he can do it to any man. I don't think people know what's coming on the 26th. I honestly don't. I don't think anybody realises what is coming."
Comments
comments