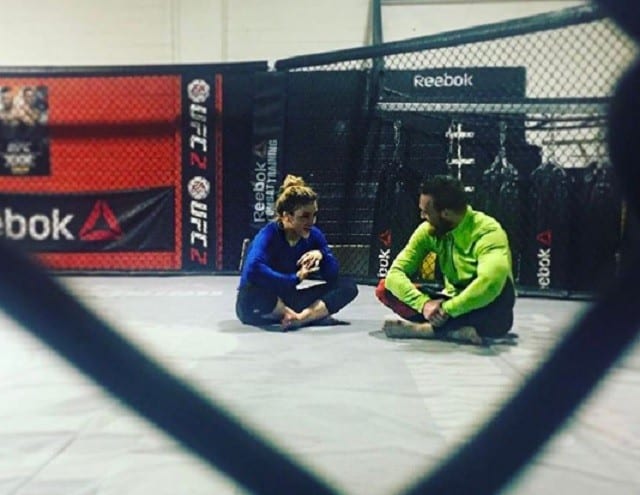 Olympic champion wrestler Helen Maroulis has spent some time training in SBG Ireland as she considers a future in mixed martial arts. Maroulis, the first American Olympic champion in the women's bracket, spent 45 minutes grappling with Conor McGregor on her recent arrival to the Dublin gym.
A grappler of Maroulis' calibre would be well-placed to achieve success in MMA, though she must decide if she wants to pursue of a future in mixed martial arts or to continue her training ahead of the upcoming Tokyo Games.
Maroulis, who is currently based in Oslo, spoke to TMZ about how she came to spend some time under John Kavanagh's watchful eye at SBG Ireland.
"A friend through United World Wrestling knew John [Kavanagh]. He contacted him and said, 'Hey, this girl is looking about maybe going into MMA. Can we put something together where she can come train with you guys?'".
"John set that up and was like, 'Yeah, Conor will come in and train with you' and in my mind I'm like, 'Well, I'm sure he's got other things to do. We'll see if it happens'. Sometimes high level athletes, maybe they won't always respect women's wrestling — you never know — but I'm very thankful it was wrestling. I just came from a striking course but I definitely wouldn't want to spar with Conor!"
McGregor did join Maroulis in the gym, where the two traded tips from the summits of their respective sports.
"It was awesome. We rolled around for a good while, just play wrestling and sparring. He showed me the differences in wrestling against the cage, which is obviously very different from regular wrestling. It definitely adds a bit when you're up against [the cage] so I was just playing around with it."
One element which separates the world of amateur wrestling and mixed martial arts, up to this point at least, is the vast amount of media requirements that exist in the world of MMA — and there's no one better in the game than McGregor at playing the media game. This, too, was something that Maroulis was eager to learn about.
"I picked his brain about the media and how you handle it. Wrestling hasn't always been a very in the public eye kind of sport. I have a lot of respect for Conor for handling the media and everything that comes with it, as well as always coming out and performing. There's entertainment but then there's the sport and he does both sides of that really well. He's got a really good head on his shoulders and he's just really down to earth."
Comments
comments