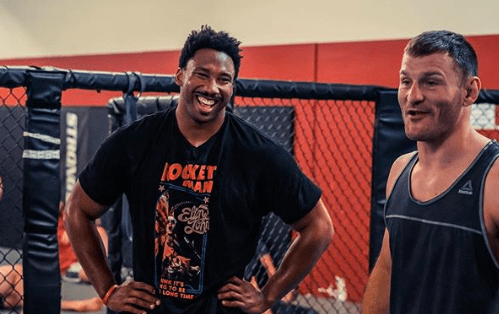 In terms of athletic specimens, they don't come much more finely tuned than Cleveland Browns defensive end Myles Garrett.
The former Texas A&M standout turned first pick in the 2017 NFL draft has emerged as one of the game's best pass rushers, mixing ungodly strength with the type of speed and agility needed to give quarterbacks nightmares (or whiplash, or concussion, or… you get the picture).
NFL to MMA crossovers haven't been as prevalent as they might have been over year, given the athletic crossovers which can sometimes connect the two sports. Brock Lesnar spent some time on the Minnesota Vikings training squad prior to his move to the UFC, while Brendan Schaub and Matt Mitrione have both spent time in the pads. There is, of course, also Greg Hardy.
But what would happen if an athlete who is arguably more athletically gifted than any of those names mentioned above transitioned to mixed martial arts, particularly in his athletic prime?
According to former UFC heavyweight champion and proud Ohioan, his favourite team's star defensive player could turn some heads in the world of mixed martial arts.
.@MylesLGarrett is doing some offseason workouts with @stipemiocic 😳 pic.twitter.com/Za2ZCSbiGw

— Cleveland Browns (@Browns) July 16, 2019
"Had some fun today in the cage. Shoutout the Stipe Miocic for teaching me some new things and letting me partake in his camp," Garrett wrote on Instagram.  "I love finding new ways to exceed my limits physically and mentally."
Garrett enters the 2019 season on the back of the Browns' most successful season in years, though they still finished with a record of 7-8-1. However, having one just one game in the preceding two seasons combined, the seven victories represented a move in the correct direction and now armed with a host of new names at the franchise, including superstar receiver Odell Beckham Jr., it seems like the tide is about to turn in Cleveland.
As for Miocic, he is knee-deep in training camp for his August rematch with Daniel Cormier for the UFC heavyweight title which will take place at UFC 241 in California.
Main image: Instagram / @flash_garrett
Comments
comments