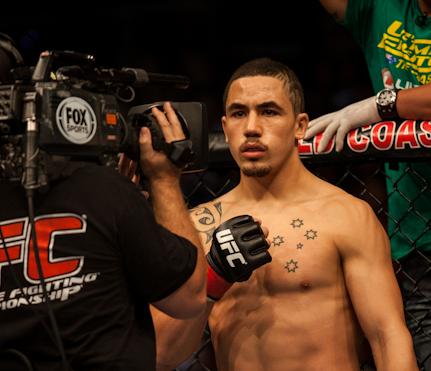 Robert Whittaker's fight with Israel Adesanya is possibly the first time the middleweight champion has come up against a contender who's willing to throw in some trash talk ahead of a fight.
But while Adesanya might believe he's getting a rise out of the champion, Whittaker wants everyone to know that it's actually he, trash talk or not, who let Adesanya appreciate the level of combat they're going to get into on October 5.
The pair recently came face to face for the first time since their fight was announced in Las Vegas at a press conference organised by the UFC, and while the presser was fairly tame, the staredown following it had an air of tension. According to Whittaker, it was in that moment Adesanya got to see how serious the champion was.
And besides, Whittaker says, being stuck on the sidelines will have you raring to go whether the opponent is mouthing off or not.
"He definitely saw it. He saw I'm not playing. But he's a smart guy. He's a smart guy with a lot of experience, he already knew I'm not playing," Whittaker said, speaking to Submission Radio. "He knew the stakes and he knows how serious this fight is. He knows how hard I'm gonna come out regardless of what he says. That's just how it is. You don't get to where he is by underestimating everybody. He's had a lot of experience.
"To be honest, there wasn't a lot that I found out or what I saw, because I was ready for it all. I'm ready for this. I've been training since — as soon as I got better from Gastelum, I've been training, I've been in the gym working. But yeah, as soon as I got better from that surgery. So yeah, and I'm hungry. As everyone likes to throw in my face, I haven't fought for over a year. And trust me, that affects me more than everybody else.
"I think a lot of fans don't realise that the person who gets effected most by missing fights is me. I don't get paid. Like, I can't move forward in my career, I can't use the skillsets that I've done, I can't pay for all the training that I implemented and did during the camp towards the fight. Yeah, I'm the main person that gets affected by missing fights. It's not pleasant, it's terrible. Lucky I have great people around me and I have a great circle of coaching staff and friends and all the people that support me, like my accountant and managers and stuff that, like, they're switched on, they're very switched on.
"I'm not running out of money before our next fight, I'm not living fight to fight. So yeah, it's terrible, but it is what is, it's part of the game. You have to expect that sometimes. Moving forward I would like to fight more often. I would to fight three to four times a year. But just the way it's played out in the last year and a half, two years, I haven't been able to do that."
Interestingly, as Adesanya's ramped up the verbal warfare ahead of fight night, Whittaker's stoicism has found him being branded the 'nice guy' of the pair. In Whittaker's mind, that's an inappropriate label. While he might appear less antagonistic on the outside, he assures us it's not the same in his own thoughts.
"Let me clear something up quickly, just because I don't talk trash and I'm not mouthy and I'm not mouthing off like I'm in the school yard, doesn't mean I don't take this for what it is,' Whittaker said. "I am doing everything in my power to break you, because we are going to go fight in an octagon. And I don't play this. This isn't a game to me. I treat this as if this would be my last fight ever, and I always have. I don't need to smack talk to get in that mind frame, I'm already there. Like, we're gonna go fight to the death in so many months time and I'm gonna give everything I have, I just don't smack talk though.
"But don't misinterpret that for me not taking the fight seriously. You can see every one of my opponents when we have the first face off or when we come face to face after the fight's been announced, they know, they know that, okay, this guy isn't playing. I'm not playing. It's not a game.
"I don't know why everyone calls me a nice guy, to be honest. Like, I'm not nice just because I'm not a dickhead, you know what I mean? I'm just normal, I'm just straight."
Comments
comments