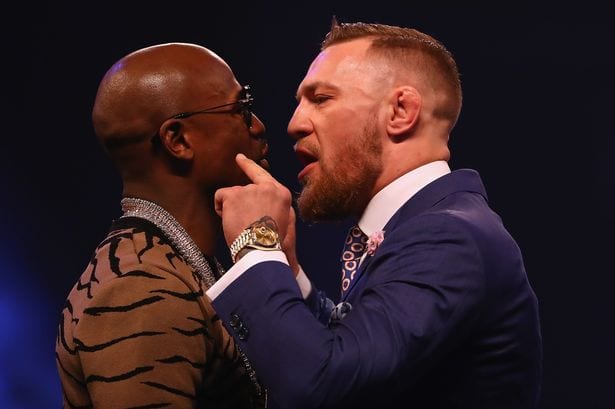 When talk began of Conor McGregor and Floyd Mayweather fighting in 8-ounce gloves, some were skeptical. Now, those skeptics may be proven wrong.
While boxers weighing over 147-pounds traditionally fight in gloves weighing 10-ounces, Mayweather recently took to social media to challenge the Irishman (who made his name in 4oz mitts) to accept fighting in lighter gloves.
Unsurprisingly, McGregor was quick to accept, and as such the Nevada State Athletic Commission will vote on the issue next week. Sky Sports were the first to report the news.
"Mayweather's team has, and McGregor's team are in the process [of submitting a request]," NSAC chief Bob Bennett said to the outlet. "It will be heard at the commission's next meeting."
That meeting will take place next Wednesday. According to Bennett, it could be the first ever time fighter's have moved to have the glove sizes changed in such a context.
"Our regulations require 10oz gloves. But I won't say that there's no negotiations. The promoters have a legal opportunity to submit a waiver, then appear before our commission to articulate why they think we should make an exception to our regulations.
"This is an anomaly. I haven't experienced this in over three years on the job. I checked with the previous executive director – Hall of Famer Marc Ratner – and our programme officer who has been here for 30 years. To the best of their recollection, we have never had a request like this. But the fact that we've never received a request does not negate the fact that [Mayweather and McGregor] have the opportunity [to submit their own request]."
Comments
comments